Eye For Film >> Movies >> For The Love Of The Game (1999) Film Review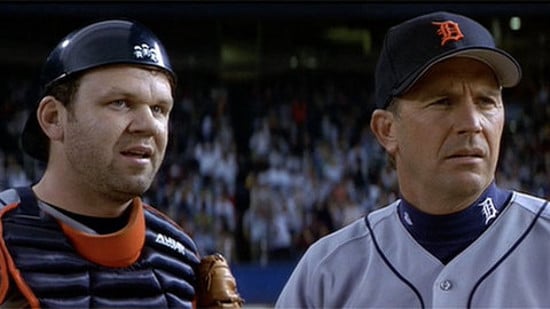 Oliver Stone realised in Any Given Sunday that a movie about a great American game needs a rocket up the plot to inject adrenalin into its veins.
This time the game is baseball, although it is not really about that. It's about Kevin Costner. Is he too old to play sexy anymore? Is Kelly Preston holding back because she's dealing with serial narcissism. When it comes to close-ups, she loses so bad.
He is Billy Chapel, legendary pitcher for the Detroit Tigers. She is Jane, a girl whose hire car conks out on the flyover. The film is as much about their relationship as it is about whether this is Billy's last year and will he go out on a high and does anyone care that much.
Jane is tricky, which makes a change. Billy is introspective and a pain in the neck. All he thinks about is work. Sometimes he thinks about mom and pop, who are dead, and the good times at games when he was throwing well. The Tigers' owner (Brian Cox), who has just sold the club to some business consortium, tells Billy, "You're like the old boys. They're golden. They had that special pride."
The script is full of it. "You don't need me," Jane says. "You and the ball and the diamond. This beautiful thing." Who matters most, she's thinking, this stupid game or me? Don't answer that. It's obvious. Billy cries in the hotel room, all alone. When it's over, it's over.
Costner is running on empty. He was like this in Message In A Bottle. He takes minimalist acting to the point where it merges into still life. Preston looks at him and speaks the line: "You taught me to believe again." Even an actress of her experience cannot make it sound genuine.
Reviewed on: 19 Jan 2001
Share this with others on...