Eye For Film >> Movies >> Follow The Boys (1944) Film Review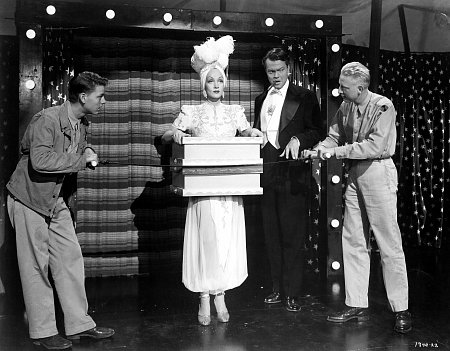 In this world of media frenzy, entertainment is certainly not hard to come by. Millions of channels splash streams of programmes across our television sets, billions are spent on making films for our digestion and technology advances allow us to view whatever we want, whenever we want, wherever we want.
Therefore it is hard for us to comprehend just how little in the way of entertainment there was in the days of World War II, especially for the troops themselves, many stationed in remote places where things to do to pass the time were not in abundance. So in steps Universal, one of many production studios who turned out films made especially to entertain the troops, with Follow The Boys - a star-studded extravaganza to boost even the lowest of spirits.

Meant entirely for showbiz entertainment, Follow The Boys does not have the most immersing of plots. It tells the story of young hopeful Tony West (George Raft) who is seeking fame and fortune in Hollywood and, surprisingly, finds it. He meets the beautiful Vera Zorina (Gloria Vance) on set, offers her tips on her dancing techniques, and, of course, they fall in love. Just as the couple's fame is rocketing to dreamy heights, World War II breaks out and Tony decides to enlist, yet a bad knee deems him 4-F, causing him to turn to providing entertainment for the troops as the only way he can help his country.
Follow The Boys was Universal's extremely successful attempt at a morale booster for the troops, packed with stars such as Marlene Dietrich, W.C. Fields, Orson Welles and Dinah Shore, yet in today's world it has little relevance. Black-and-white's are a dying breed, fondly thought of mainly by grannies and granddads who remember the days when they were new and amazing, but ones such as Follow the Boys have a longer shelf-life due to the one aim they carry that we can still connect with today: entertainment.
Reviewed on: 29 Nov 2006
Share this with others on...