Eye For Film >> Movies >> First Position (2011) Film Review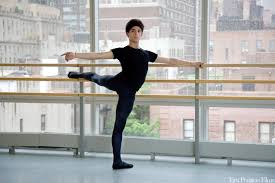 The documentary format has shone riveting light on several niche sports of late, with even uninitiated audiences thrilled by the likes of Manx TT chronicle Closer To The Edge and West Indies cricket team time capsule Fire In Babylon. First Position joins these - as well as the similarly themed Jig - as an enlightening and exciting glimpse into America's child ballet competitions, a world that can be as harsh as it is transcendent. Director Bess Kargman skilfully highlights the physical and psychological harm the pursuit of perfection is causing these kids without ever judging the adults who push them towards fulfilling their potential. While the extensive roster of young athletes featured perhaps means the narrative feels a little unbalanced, there is real joy and pain etched into every frame, resulting in an immensely involving and engaging experience.
The annual Youth America Grand Prix is a prestigious contest for aspiring dancers between the ages of 9 and 19, from which a career in ballet can be carved overnight or crushed underfoot. Jules and Miko are siblings with differing styles and degrees of passion for their art; their proud parents push them equally together but one of them may not be cut out for or committed to the cause. Some of their peers are tipped for greatness but their youth means they still have a lot to prove; Aran is an 11-year-old prodigy whose slight frame belies ability beyond his years, while Gaya is as unconventional as she is hugely skilled. Meanwhile, 17-year old Rebecca is struggling to make that final leap towards recognition, while 16-year-old Joan has left his home and family in Colombia to live in NYC for the sake of dancing and Michaela must contend with the generally held belief that colored girls aren't built for ballet. All of them must push themselves harder than ever before and overcome their own personal demons if they're to achieve success in this important competition.

Kargman senstitively follows her subjects over the course of a whole year, wisely downplaying (and even satirising) the artiness of ballet in order to concentrate on its athletic side. Mixing intimate, off-the-cuff footage of the kids at home and among friends or family with the more charged scenes of their practice and performance, the film may seem a little over-populated and unruly but it's hard to imagine who could have been left on the cutting room floor. All of these kids have unique backgrounds and pressing individual problems; taking in race, class, gender, age and even bullying, Kargman exposes the prejudices within ballet as well as the perceived notions that its practitioners must parry everyday from those looking in from the outside. The boys obviously put themselves in the firing line for jibes from macho peers, but even the girls are revealed to have to fend off accusations of being snobby, prudish or generally not fun human beings, with much of this footage proving otherwise.
The close-up images of the kids' battered, bloody feet are even more intensely uncomfortable than the excruciating body horror of Black Swan, while the exhausting preparation and level of commitment apparent from the final performances is breath-taking and heart-stopping respectively. Some of the best moments highlight how mature these young athletes have to be; when one of the youngest makes a stand for their right NOT to dance, you have to admire their gall in disappointing their parents and relate to their perspective in simply wishing to have a little more fun from their childhood.
While many viewers will see the adults - from coaches to judges, parents to teachers - as exploiting their young charges for their own satisfaction and indulgence, Kargman manages to avoid subjectivity, presenting the brutal truth and letting us decide if the end result is really worth all the blood, sweat and adolescent tears. The climax could be criticised for not really concentrating on the kids' make-or-break performances - there are a few too many shots of the people in the audience, their grimaces and grins telling us everything we need to know - but Kargman never sugar-coats the outcome, ending on a bittersweet note with lessons learned all round and the promise of things to come as powerful as ever.
First Position may not become a sleeper hit like similarly inspiring/upsetting obsessive-dominated docs Spellbound or The King Of Kong, but it deserves to find an audience outside of the dance community. It paints a vivid portrait of the lengths American parents will go to for their kids - giving up houses and whole lives to give them the best chance possible - but also outlines the potentially damaging pressure they put their offspring under. While Kargman could definitely have edited her film a little more economically, her illuminating touch should gain her plenty of plaudits, and as a directorial debut this is surely a sign of further good work to come.
Reviewed on: 29 Jun 2012
Share this with others on...