Eye For Film >> Movies >> Escape From New York (1981) Film Review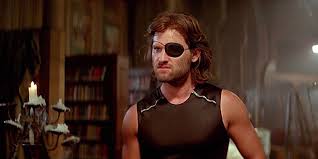 Like its precursor Assault On Precinct 13, Escape From New York looks like a tacky TV movie at the start. My lip curled visibly (I'm told) when I first saw it in 1981.
Both films grate and lack fluidity, but by the end of Escape you want to swap sweat with the noble Kurt Russell who, as the peculiarly named Snake Plissken, has shot and blown his way around what's left of the Big Apple in some future time.
Ooops! 1997 they reckon, but its not like that now. Is it? Anyway, here we are, all kinky uniforms and militarism, plus a few helicopters on a dark set and the upshot is we've just watched a cult film right to the end again.
While I doubt that we'll see a "Sing-a-long-Snake" version of John Carpenter's lowish-budget futurescape, there is undoubtedly something classic about this film, viewed from 2005. It has memorable and quirky performances from Ernest Borgnine as a mad yellow cab driver, Donald Pleasence as the bonkers US President and Isaac Hayes as the Duke of New York. With the girl lead firmly, though superfluously, in the hands of Adrienne Barbeau as the lethal Maggie, anchored by Lee Van Cleef as a latter day sheriff and Harry Dean Stanton as The Brain, a criminal mastermind, the movie is well equipped to do much with an otherwise plain vanilla story of hostage rescue with a twist of Armageddon. And it delivers in an E-for-effort sort of way that is undeniably watchable.
What happens? Rebels hijack the President's jet. He bales out in an escape pod and lands inside the bounds of New York, which is now a prison city, although there are no guards. He has some vital stuff needed in the war (no analysis here) and so the White House West Wingers want him back. Initial attempts fail, so it's set-a-thief-to-catch-a-thief time. Convicted bank robber Plissken is made an offer he can't refuse and "agrees" to give a helping hand to the wimpy cops.
And so this beefy ex-Special Services soldier is dropped in on a one-man mission to get the Pres out. On his way, he picks up a retinue of "only in for the money/pardon" villains and a posse of hard nuts, which includes a fleet of low riding, car-smart comedy negroes, who want the Pres for their own gain. Bad taste and greedy, I'd say.
There are some great scenes and moments in a film that tries hard to take itself seriously, but which is run through with unintentional satire and self-deprecation. As he leaves the aircraft, the Pres says, "God save me and watch over you all", which converts straight to "I'm alright Jack!" in my book.
Isaac Hayes looks the dogs in his pink Cadillac, with chandeliers for headlights - the role is him to a Mr T. But it's Russell who takes the medal for the biggest cringe, when he says to Van Cleef, "Call me..Snake". Oh, hissy-whissy, Kurt!
There's lots of shooting from peculiar-looking machine pistols, with inexhaustible supplies of ammunition, and some super-but-not-too-gory deaths, which make the film easy to watch.
Reviewed on: 14 Mar 2005
Share this with others on...