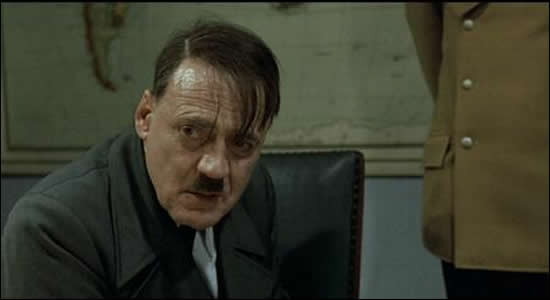 Even at the end, high-ranking SS officers committed suicide for their Fuhrer and yet, by this time, the man was ill and crazed, as Eva Braun (Juliane Kohler), the woman he would marry in a bizarre ceremony in the Berlin bunker, giggled and danced like a flighty debutante.
Oliver Hirschbiegel's film of the Third Reich's death throes is an astonishing piece of filmmaking. It recreates the chaos in the city as Russian troops advanced against straggly groups of children and old men.

In the bunker, Hitler raged uncontrollably as reports of further defeats filtered through. His degree of denial was absolute. Any commander who fell back against overwhelming odds was deemed a traitor and ordered to be shot.
His closest aides were either blindingly loyal, or coolly pragmatic. In the bunker, where half the soldiers were drunk, normality was a pale imitation. Goebbels's children, well-mannered, almost angelic, would be poisoned in their sleep. The prospect of surrender was never an option and the only alternative for those incapable of contemplating the humiliation of capture was a bullet in the brain.
Although everyone knows the outcome, the film remains riveting. Bruno Ganz's portrayal of Hitler as a diminished figure, swallowed by his greatcoat, liable to fits of violent fury and yet weighed down by abject despair, almost incoherent with the numbing effects of chronic paranoia, is masterful.
"The only things he talks about are dogs and vegetarian meals," Eva confides in Traudl Junge (Alexandra Maria Lara), Hitler's young secretary.
Traudl is an important figure in the story, being an innocent observer of the madness and the mayhem, an island of stability in a world buffeted by dangerous delusion.
Not all Germans were bad; not all Nazis were murderers. Hitler blamed the people for their defeat; he blamed their weakness. "I have been betrayed and deceived from the beginning!"
As a witness of the last days of this cruel and malevolent regime, Downfall is clear-eyed and unsentimental.
"I feel no sympathy," Goebbels said, before shooting his wife in the heart. Emotions freeze-frame.
Traudl held back her tears and escaped into the ruined city.
Reviewed on: 31 Mar 2005
Share this with others on...