Eye For Film >> Movies >> Down In The Valley (2005) Film Review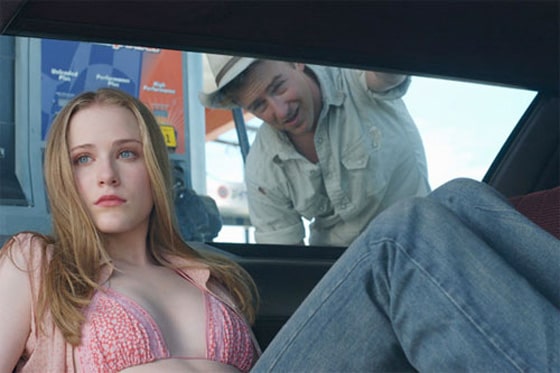 This is a hard film to review, not because it puzzles the audience in any way, but in trying to offer a clear synopsis that will entice you to go and see it, without spoiling the surprises.
Not quite a love story, not quite a Western, not quite a thriller, Down In The Valley has all these ingredients, and more, and utilizes them in such a way that it is entirely successful.
As Harlan, a seemingly happy-go-lucky cowboy, adrift in the San Fernando Valley, a man out of time, living how he wants, alone, Edward Norton gives his best performance since Fight Club. Matching him is Evan Rachel Wood, as Tobe, a teenage girl, half his age, who sees past the cowboy hat her friends mercilessly mock and falls for the man, much to the disapproval of her father. They fall in love and major drama happens - 'nuff said.
Writer/director David Jacobson's previous film was the serial killer biopic Dahmer that quickly disappeared into the nether regions of your video store. This time, it's different. As soon as the title credits appear on screen, you could be forgiven for thinking that you are watching some lost Seventies classic from the likes of Monte Hellman, or Bob Rafelson. It is an aesthetic that Jacobson spreads throughout the entire film, through the script, his direction and the weird tangents that the story takes. Not for one minute does it feel false, or forced.
Norton shows Harlan as charming, fragile and dangerous, sometimes simultaneously, and the rest of the cast are also first-rate, from Rory Culkin, as Tobe's little brother, who is painfully shy, to David Morse, as her brutish, worried father. Special mention must go again to Wood, who gives the finest teenage performance since Jodie Foster in Taxi Driver, another Seventies staple you will be reminded of when watching this.
If you like your cinema challenging, uncomfortable, exciting and enlightening, check this out. It is a sure thing to go down in film history as a cult gem.
One of the year's best.
Reviewed on: 26 May 2006
Share this with others on...