Eye For Film >> Movies >> Don't Include Me Among You (2015) Film Review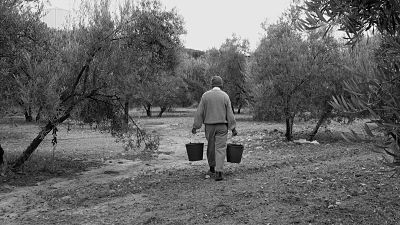 Director Isidro Sánchez first met Manolo Bueno - the subject of his directorial debut - when the latter was admitted to the care home where he worked. To some extent Manolo was compliant with the demands of residential care - he did what he was told - but he didn't take an interest in his new surroundings or independently interact with other residents. In contrast, being given the opportunity to leave the residence for several hours a day on his own was something that Manolo responded to positively - but when the offer was rescinded because he was spending more time outside the facility than within it, Manolo returned to going through the motions without taking an active interest in anything.
As a result, Sánchez decided to investigate what Manolo had been up to on his own. What he found out about Manolo with the older man's assistance forms the basis of the film. There is an element of re-creation involved (the film opens with Manolo packing up his belongings and being accompanied to the care home by his brother) but Sánchez states in the press kit that essentially he followed Manolo around, and what appears in the film is largely unplanned and unscripted - although from the perspective of this viewer, there seem to be some narrative 'interventions' in the later part of the film.
Manolo had to enter residential care because he was no longer able to take full care of himself after an injury, but although he shows a certain level of befuddlement, his mind is clear in relation to things that matter to him (he gets confused when asked for the month or the name of the president but can state his mother's full name and his former address without hesitation). He wasn't ready to give up his autonomy or independence - during his sojourns into the surrounding countryside he fixed up an abandoned dilapidated dwelling (repairing brickwork, replacing windows, and lime-washing the outside) and tended an olive tree alongside it (creating an olive press and marinating the olives himself). He still needed to be busy and physically active but not in the form of the 'organised fun' at the care home.
Sánchez took the time to observe the older man and came to the realisation that the care offered by the home needed to be tailored to the individual. Manolo's preference for solitude and his general self-sufficiency is likewise represented within the film by the absence of voiceover or a narrative overview - he cuts his own path and does not fit neatly into the boxes that society wishes to place him in. Sánchez's patience and openminded approach to someone who resisted conformity has enabled him to create a gentle portrait of a skilled man who is happiest outside and working despite his advanced years.
Reviewed on: 02 May 2016
Share this with others on...