Eye For Film >> Movies >> Day Of The Flowers (2012) Film Review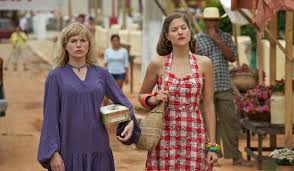 Editor's note: This is a review of the film's original cut that premiered at Edinburgh Film Festival in 2012. It has been re-cut for the 2013 release.
Playing out in similar culture clash fashion to The Best Exotic Marigold Hotel, and with the same sort of tourist brochure shine, John Roberts' film is always charmingly frothy, even when the narrative threatens to salsa off with the fairies.

Eva Birthistle and Charity Wakefield play Glasgow sisters Rosa and Ailie, who have about as much in common as Marmite and jam. Rosa is a fierce left-wing firebrand, while the only thing that fashion victim Ailie is likely to protest is the withdrawal of her favourite colour of lipstick.
The death of their dad forces the pair together as Ailie drags Rosa, who is estranged from her father's new family, along to his wake. The setting is a far cry from her father's youth, which he spent, along with the girls' mum, helping Cuban revolutionaries before slipping out of that marriage and in with the golf club set.
Stung by the idea of her dad's ashes being forged into a clubhouse trophy, Rosa tips the lot in her handbag and hatches a plot to take him back to his 'spiritual roots' in Cuba, aiming to scatter his ashes during the annual Day of the Flowers festival. Ailie, never one to miss out on topping up her tan, pitches up at the airport to tag along with Rosa and her included-only-for-love-interest pal Conway (Bryan Dick).
The trio's roadtrip through Cuba sees Rosa encounter comic calamity when dad's ashes are seized by the local police. And she finds herself torn between potential romance with sweet dance instructor and tour guide Tomas (Carlos Acosta) and the charming but up-to-no-good Ernesto (Christopher Simpson).
With even the less savoury characters presented more as victims of circumstance rather than evil to the core, the tension comes more from the relationship between the sisters than from the Cuban setting. In her debut feature screenplay, Houston shows a good ear for sibling rivalry dialogue and creates two strong female characters, whose motivations and mannerisms are a lot less cliched than might first appear. Birthistle and Wakefield keep the bickering believable and Acosta - a professional dancer in his first screen role - is also sweetly affecting as the guy we all want to get the girl.
Romance and sisterly love offer amiable enjoyment for viewers willing to go with the flow, but a late-stage subplot about family secrets feels bolted on, unecessary and confusing. Despite this loss of rhythm, the warmth of the characters and Cuban setting leave an endearing glow.
Reviewed on: 05 Jul 2012
Share this with others on...