Eye For Film >> Movies >> Coach Carter (2005) Film Review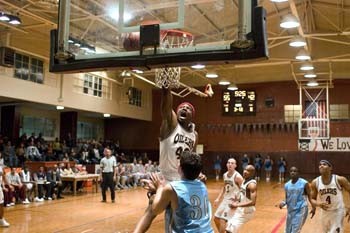 In the long and distinguished tradition of inspirational teacher movies, Coach Carter differs in two respects. The main man is black and his methods are strictly authoritarian.
The liberal concept that underprivileged kids from broken homes with no hope/aspiration/future are lacking love is kicked into the long grass, or, in this case, out of the gym. Ken Carter's approach is, "Do as I say, or do 1000 push ups." What he's after is respect - for himself, for his team, for his high school.

Although based on a true story, Coach Carter (the movie) is tailor-made for New Republicanism, the Dubya doctrine of "walk tall, wear a tie and crush the opposition." The only thing missing is God.
The story writes itself. Carter comes back to his alma mater and is hired as basketball coach. Naturally, the team is rubbish. Last year they won four games and lost 23. Morale is not a word that has meaning at Richmond High. Ken is here to change all that, but he is not a soul brother who gets down with the homies and listens to their woes. He's from the Third Reich.
Played by the icon of cool, Samuel L, the reactionary side to Carter is heartfelt, rather than sadistic. You know that deep down, when he is putting his team through a Guantanamo Bay training regime, he cares. If he doesn't, he should be locked up.
Do the Richmond Oilers do well? Silly question. How well?
The movie does what is says on the tin. There are no surprises, with the exception of "the lock out," which makes the TV news channels. At a point in the season when the Oilers have yet to be beaten, Carter puts a chain on the gym door and says no more games until the boys get back into the class room. Without qualifications, a kid from the ghetto won't ever get to college, however good he is with a ball. What it's all about is self-improvement and winning. They have to go together, like Dick'n'Donald.
This could have been so preachy and political, but the performances from the young cast are excellent and Jackson has such natural authority he carries the audience with him. The film slips too easily into the mould and however hard it tries cannot avoid stereotyping.
Reviewed on: 25 Feb 2005
Share this with others on...