Eye For Film >> Movies >> Clouds Of Sils Maria (2014) Film Review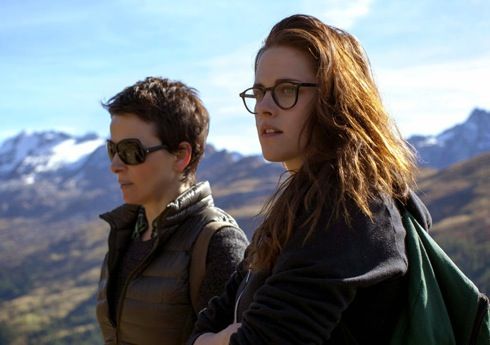 The best thing about Olivier Assayas's contrived new film (the last to be presented in the Cannes Competition) is the attractive scenery of the Swiss alps and lakes, and even they begin to seem oppressive and tedious after a while.
Juliette Binoche, always watchable and nuanced, is lumbered with some pretentious dialogue as Maria Enders, a middle aged actor whose first claim to fame was in an intellectual play about a lesbian romance between a business woman and her young assistant.
She is introduced en route to an awards ceremony honouring the author whose work she has portrayed and who was a mentor. During the journey her assistant is played convincingly by Kristen Stewart. Instead of honours she is asked to deliver a tribute.
Later it emerges that she has agreed to play the older character in a revival of the play with her role being taken by Jo-Ann Ellis (Chloe Grace Moretz), a precocious star whose achievements include an X-men style epic.
Binoche's character rehearses in the Alps with her assistant, taking long walks among the peaks and spouting the lines. Their relationship begins to echo the one in the play. She goes through various crises of confidence before eventually meeting her co-star and seeing the production take new life on stage in London.
There is much irony on the theme of generational gulfs, internet obsessions and the nature of creativity and culture. Unfortunately none of it rings true. In addition there is the irritating meteorological device of a mist snaking its way along the valley towards the town named in the title which receives far too much emphasis.
A smattering of fun is to be derived from the contemporary cinematic references and the interplay in the early stages between Binoche and Stewart. It begins to pall, however, rather rapidly amid the Alpine mists.
Reviewed on: 23 May 2014
Share this with others on...