Eye For Film >> Movies >> Camp Confidential: America's Secret Nazis (2021) Film Review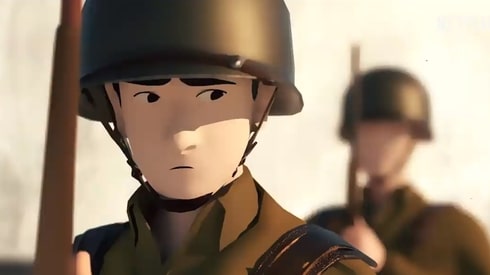 Documentarians Mor Loushy and Daniel Sivan have forged a career out of the exploration of historic events through first person testimony and re-enactment in the likes of The Oslo Diaries - which charted a secret 1992 meeting between Israelis and Palestinians - and Censored Voices, which saw soldiers recount their experience of the Six-Day War.
This time, they employ animation - that most malleable of mediums - to consider a secret Second World War military camp near Washington DC, whose details were classified for more than 50 years. The animation allows them not just to reconstruct the testimony of former soldiers who recounted their experience in National Park interviews in 2006, but to offer an emotional element through its style, like longer form documentaries Waltz With Bashir and Flee. This means they can connect the men's inner feelings with the physical documentation, so the salute of a hand is all we need see to forge the link between a refugee's gratitude and their desire to serve their newly adopted country. In addition to voices heard on tape - represented by a reel-to-reel tape recorder we see from time to time - two veterans, Peter Wiess and Arno Mayer, also speak directly to the camera.
The story initially unfolds with some mystery, as we hear how the young servicemen - mostly Jewish refugees from Austria and Germany - recount being recruited to the clandestine camp that became known as PO Box 1142. "We had to swear, don't tell anybody where you are or what you're doing," says one.
The men talk about the confusion they felt on arrival because the place "looked like a club" complete with swimming pools and tennis courts. Worse was to come, from the perspective of those assigned to staff the camp, when they realised they were shipping in Nazi scientists, including the creator of the V2 rocket Wernher von Braun, less than to incarcerate them than to attempt to milk them for military secrets. While some of the things that happen next are borderline absurd, including a pre-Christmas shopping trip to a Jewish department store where a 17-year-old squaddie found himself trying to buy bras for the Nazi's wives back home, Loushy and Sivan don't shy away from using shocking archival footage to remind us just how barbaric the regime they were part of was.
These archival images are further reinforced by the men's recollections, their anger and disgust little dimmed by the passing of the years, that these Nazis who wreaked so much death, should end up heralded not many years later as part of the US's Apollo Space Programme. That the soldiers were being forced to play nice with men who were instrumental in murdering their families only makes this whole situation feel even more morally queasy. This is not a question of rehabilitation but of crime without punishment or even admonishment as the bigger political wheels of the Cold War kept on turning. Moral questions hang heavy in the air about whether ends can justify means and Loushy and Sivan - whose film has made the Oscar documentary short shortlist - ensure the soldiers' experience is kept front and centre.
Reviewed on: 01 Jan 2022
Share this with others on...