Eye For Film >> Movies >> Ben Is Back (2018) Film Review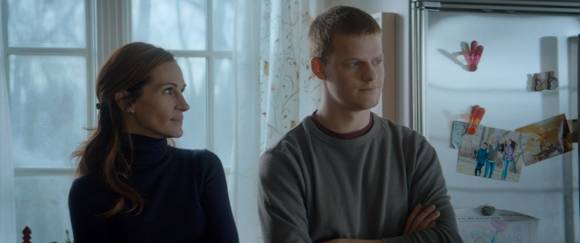 Ben (Lucas Hedges, son of writer/director Peter) turns up at home in time for Christmas. He should be in rehab. Still teenage (just) he is well versed in the tricks of the trade. Being as addict since before he can remember, he behaves with unexpected maturity which confuses Mum (Julia Roberts), who is delighted to see him even though she hides all the pills from the bathroom cupboard and keeps her jewellery out of sight. He knows what's going on and it's upsetting, such lack of trust. He lets it go. This time.
Films about youth and drugs are popping up more frequently, concentrating on the kids and how they cope with authority as if getting high is the new arbiter of fashion. In this one, it's not Ben so much as his mother who cracks under the skin.

Roberts has carried the torch on the reputation of her beauty, especially that smile, for long enough to obscure something else about her, When given the chance with an intelligent script that ignores faded rom-com cliches she can act with disturbing accuracy.
Ben Is Back is about her as a mature mother, dancing with denial, giving the impression that seeing him out of authority's grasp is infused with darkness that this man, her son, needs help and protection if their relationship has any meaning.
The subject is important and relevant and Peter Hedges avoids the obvious pitfalls with a skilful, honest approach. Coming home for Ben is where his druggy friends live in the neighbourhood. To stay strong surrounded by these guys is harder than having to deal with Mum's defence mechanism, which treats him like someone who cannot control his habit.
Roberts and Lucas perform so well together that they give the film a credence and a perception beyond the norm. Junkie jive is no longer useful in this setting. Who is the victim, the mother or the son? Who will survive? Who will come through and say, "It works if you work it."?
Reviewed on: 13 Mar 2019
Share this with others on...