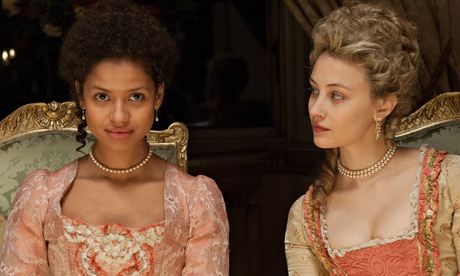 In Kenwood House on Hampstead Heath a painting hung on the wall, depicting two beautiful girls, one pale, the other dark. This is their story, or rather the dark girl's story. Her name was Belle although they called her Dido. She was the illegitimate daughter of the Lord Chief Justice of England's son. She was mulatto, or halfcast.
In the late 18th century at the height of the slave trade, which benefited the British treasury to a disgusting degree, the only black skins glimpsed below stair in the capital were those of servants. Dido was brought up in Lord Mansfield's country home with his own daughter Elizabeth (Sarah Gadon) and experienced no racial prejudice before coming to London for Liz's entry into society, the posh girls' marriage mart.

Amma Asante's film has two distinct story lines, the personal and the public. They are connected through Mansfield, Dido's protector and father figure. In his official position he is involved as judge in a case brought by the insurance companies of a ship's captain jettisoning his cargo of slaves into the sea, due to insufficient drinking water on board.
Dido becomes aware of this through her friendship with a young anti slavery activist and obtains vital evidence for his cause. Meanwhile she is being wooed by a handsome aristocrat from a titled family, while experiencing back handed insults from his social peers.
Her intelligence matches that of the political rebel and far outshines Liz and her coterie. Mansfield (a perfectly toned performance from Tom Wilkinson) and his Lady wife (Emily Watson) belong to the established order and yet remain open minded and practical.
By depicting a life of stifling conformity and strict rules of conduct, Dido's ambitions are reduced to marriage or servitude which affects the audience's interest.
Despite Gugu Mbatha-Raw's fine interpretation of the exceptional Dido and Asante's recreation of a ruling class, bolstered by its own sense of superiority, the film feels predictable, as if it were fiction and not based on real events.
Emotions run deep, but they don't fly. With notable exceptions, characters fit stereotypes. Perhaps society demanded it.
Reviewed on: 12 Jun 2014
Share this with others on...