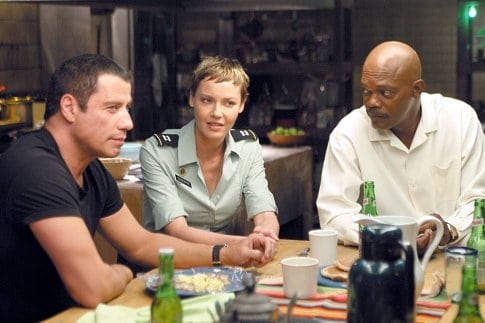 When an audience is captive, it is not difficult to pull the wool over its eyes. The question is, why? How much?
Basic goes too far. Essentially a whodunit wrapped around a military corruption/cover up theme, it cheats so blatantly that the early tension, invoked through performance, interrogation and story telling is wasted. The final denouement can only be described as farcical.

A routine Special Forces training exercise in Panama ends in tragedy. Soldiers are killed, including Sgt West (Samuel L Jackson), a harsh disciplinarian, much hated by his men. Thanks to a convenient hurricane, which "blew the bodies away", the only evidence comes from the known survivors, Dunbar (Brian Van Holt) and the wounded Kendall (Giovanni Ribisi), son of a Joint Chief of Staff.
Capt Osborne (Connie Nielsen), head of military police at Fort Clayton, is put in charge of the case, but she's too uptight and starchy to make a mouse squeal. The maverick Tom Hardy (John Travolta), an ex-army Ranger, whose career as a DEA agent is in jeopardy, pending a bribery charge, is brought in by his old buddy Col Styles (Tim Daly), because "there's no-one better in a room", meaning his interrogation skills combine with a charm offensive to create an irresistible force.
The first half of the film is a demonstration of Travolta's ease with himself, as he lobs one-liners into the back row. Dunbar and Kendall cave in to Hardy's good cop routine, but their stories, illustrated with flashbacks, don't match. This leads into the second half, which has Hardy saying: "Murder is basic; anyone is capable of murder," leading to, "You think you know everything; you haven't even scratched the surface."
Once scratched, the surface looks decidedly unsafe. It seems that scriptwriter James Vanderbilt can play any dirty trick he likes and expect the captive audience to gasp in unison. Instead, it groans with disbelief.
Thrillers tread a narrow line between clear blue water and sheep dip. If the paying customers are manipulated, their eyes go glassy and the moment is lost. Basic starts from a strong position, with John (Die Hard) McTiernan at the controls and the likes of Jackson in support, but throws it away by being too liberal with surprise shocks that are stupid rather than credible.
Reviewed on: 19 Jun 2003
Share this with others on...