Eye For Film >> Movies >> Bad Education (2004) Film Review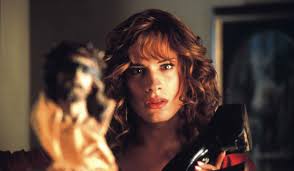 Drag queens, drug addicts and priapic priests. Welcome to the weird world of Pedro Almodovar.
Enrique is a hot young filmmaker in search of a story. He sifts through newspapers and one item grabs his attention. In a zoo in Taiwan, a woman throws herself into a pool of crocodiles. While the crocodiles devour her, she hugs them without making a sound.

It's an arresting image, but Enrique finds himself drawn into another story, when Ignacio, an old school friend, arrives out of the blue. They were close once - Ignacio was his first love - but that was 16 years ago and now Enrique hardly recognises him.
Ignacio, a struggling actor and writer, has a present for Enrique - The Visit, a short story about two young boys who fall in love at a strict Catholic school, run by the predatory Father Manolo. Enrique agrees to read the story and quickly decides he wants to film it. Ignacio waives his rights on one condition, that he gets to play the leading role of a drug-addicted transvestite.
What follows is a complex tale of love, lust, betrayal and death, a clever story within a story that weaves Enrique's film of Ignacio's fiction with his quest to discover the truth about Ignacio, or, rather, the man who claims to be Ignacio. The truth, he discovers, is even more compelling than imagination.
In other words, it's your average story of boy meets boy, boy loses boy, boy finds boy, boy turns into murderous junkie transvestite.
Along the way, there are some wonderfully comic moments, mostly courtesy of Javier Camara as Ignacio's camp friend Paca. Almodovar never preaches but continues to have fun at the expense of the church.
"There are no witnesses," one guilty priest says to another.
"What about God?" the other asks.
"He's on our side."
Reviewed on: 06 May 2004
Share this with others on...