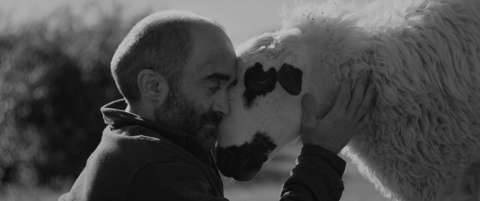 If words like "slow cinema", "philosophical" and "contemplation" already make you feel twitchy, then you'll probably know that this latest film from Jo Sol is not for you but if you welcome films that leave space for your own thoughts in between the dialogue, then this is a winner. The antithesis of a blockbuster, it is a densely worked tale steeped in metaphor and, as you might expect for such an arthouse affair, it is shot in crisp monochrome, eschewing straightforward story in favour of considering the profoundly complex nature of death and what precedes it.
Visually arresting from the start, when we see Armugan (Íñigo Martínez) being piggybacked, with great effort, through the mountains by Ánchel (Gonzalo Cunill), we are told that he is a doula for the dying, being called to homes, almost like a priest when people are on the brink of death, to comfort them on their way from this life to whatever comes next in ways that are left enigmatic and which he expressly says does not involve killing them. This air of mystery cloaks Armguan, who has multiple disabilities, including a speech impediment and being unable to walk. Ánchel is his helper/apprentice, taking him when called by a woman who acts as a go-between with no real indication of how Armugan went about his business prior to the younger man's arrival.

When the pair aren't ministering to the dying, they spend their days at Armugan's mountain hut, where we see his strong connection to nature, whether it is shoots growing in a jar or the sheep whose bells announce night-time visitors. One night, a woman who they aren't expecting arrives. Her child is chronically sick and she wants their help. Soon these men who seemed like two halves of a whole will find themselves on opposing sides of an argument about life and death and who has the right to decide on the route between the two.
The dialogue may be spare but Sol never lets the mood slip for the moment, ratcheting the tension even as he opens up philosophical avenues about eugenics and euthanasia for consideration. The score from Juanio Javierre - which won a prize at Tallinn Film Festival where the film had its world premiere - dovetails with this mood, offering an ambient intensity, broken only by sounds like those sheep bells. Cinematographer Daniel Vergara has largely worked on short films previously but steps up to the larger canvas with ease, his camera bringing home the majesty of the mountainous area of Aragon, where the film was shot. Sol is out to challenge his audience to consider the fundamentals of life and death - and those who have recently experienced bereavement or who are caring for someone with terminal illness, in particular, may want to approach this with caution. Though the journey is resolutely enigmatic, it is worth taking.
Reviewed on: 28 Nov 2020
Share this with others on...