Eye For Film >> Movies >> Apparition (2014) Film Review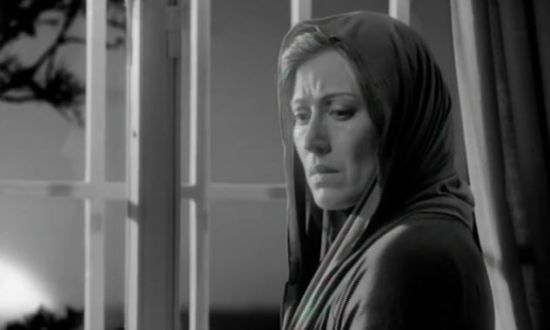 The sins of the father - and the mother - are visited on the children in Dariush Mehrjui's melodramatic and monochromatically stylised Apparation. Based loosely on Ibsen's Ghosts, whispered poetry may accompany the credits but the emotion is of a much more elevated sort throughout, heightened to the point that it risks alienating the audience, especially in early scenes.
Homayoun Ershadi is an ogre-like general, living in house that may as well be a castle. Alcoholic and violent, his attitude to those around him is one of a spoilt child, "Nobody cares about me in this home," he says, even as he is being waited on hand and foot. His wife (Mahtab Keramati) leaves the house during the worst of his rages which affords him plenty of time to have his own way with their meek maid (Melika Sharifinia), who is unable to do anything about her predicament.

The inevitable happens and the maid falls pregnant - and that is just the beginning of a story which then fast-forwards to show us what happens to the general's legitimate son (Amir Ali Danaei) and illegitimate daughter (Hengameh Hamidzadeh). Mehrjui underlines the stormy situation with frequent deluges of rain and cracks of thunder, while his screenplay hinges on the tension between the idea of being able to "forget the past" and ongoing karma and the way that nothing can sway the balance of power more than cold, hard cash.
The fatalism of being unable to change an unfair destiny is not uncommon to recent Iranian cinema, with recent films including Kami's Party and The Final Whistle touching on it. As with those films the situation of women is emphasised, showing that no matter what the station in life, it is patriarchy - however unjust - that dominates the outcome, even after death. This is particularly emphasised in the plight of the maid who, not only held accountable for a situation that was not of her own making, then finds herself with nobody to turn to but another man who is likely to only offer further abuse.
Shot with skill by Mahmoud Kalari - whose excellent work can also be seen in Edinburgh Film Festival's single-take film Fish And Cat - Mehrjui's use of black and white emphasises the stark contrast within the subject matter on issues such as morality - which here is less an absolute than maleable in the hands of those who hold power. A single, brief use of Heimat-style colour, possibly intended to signify a glimmer of hope, is a flourish too far.
Reviewed on: 08 Jul 2014
Share this with others on...