Eye For Film >> Movies >> Another Year (2010) Film Review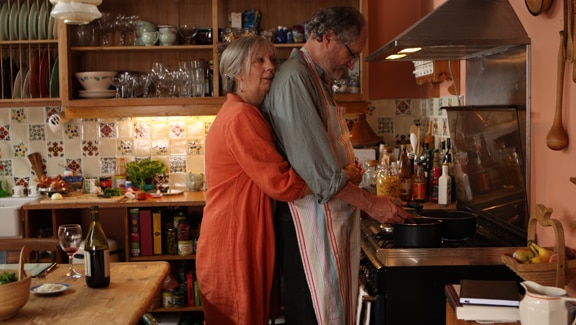 "So how long's this been going on for?", asks the doctor. "A year? A whole year?"
Not that we at first see the doctor, Tanya (Michele Austin). For in this opening sequence to Mike Leigh's latest film, the camera is instead firmly focused on the grave features of her patient Janet (Imelda Staunton), who is clearly suffering from a deep depression. As Tanya gradually enters the frame, leaning in to take Janet's blood pressure, we register that the doctor is considerably younger than her menopausal patient, and indeed heavily pregnant. There is an implicit contrast between their respective ages and outlooks.

Indeed, Another Year is built around such contrasts. Unhappily married, abandoned by her adult children and unable to sleep, Janet will appear in only one other scene, telling her counsellor Gerri (Ruth Sheen) that she is decidedly a "one" on a happiness scale of one to ten, and that the only thing that would improve her life is "a different life". With a fatalistic resignation that is reflected in the film's title, Janet declares, "Nothing changes", before bowing out of the film altogether (within its first ten minutes). It is spring, the season of renewal and promise, and the focus will now shift to Gerri herself and her geologist husband Tom (Jim Broadbent).
If pressed, Tom and Gerri (and yes, the film does eventually reference the inherent comedy value of their conjoined names) would probably rate their happiness a solid ten. They have been together since they met on their very first day at university, and still, several decades later, have a great respect and affection for one another. They dote on their adult son Joe (Oliver Maltman) who, although secretive in other respects, is perfectly open in loving them right back. They live in a comfortable home, and spend their free time tending vegetables together on the local allotment. They are generous, considerate, hospitable and good-humoured.
As the film traces the passage of time season by season – it is another year, after all – we also meet the friends and family in this couple's orbit. There is Gerri's work colleague Mary (Leslie Manville), serially throwing herself at the wrong men and increasingly desperate in the face of loneliness. Or Tom's old friend Ken (Peter Wight), an alienated, aging widower who compensates for his sense of obsolescence by overeating and overdrinking. Or Jack (Phil Davis), struggling to put a brave face on the ill health of his unseen wife (who might just be Janet). Or Ronnie (David Bradley), Tom's bleakly taciturn older brother from Derby who has just been faced with a massive void in his life. Or Ronnie's estranged son Carl (Martin Savage), locked into his own aggressive bitterness. Or Katie (Karina Fernandez), an occupational therapist who, much like Tom, Gerri and Joe, loves life, thinks positive and embraces change.
Although the tragicomic episodes that make up Another Year seem casual and low-key, they encompass birth, death and everything in between. The frame of the four shifting seasons (beautifully shot by DP Dick Pope) suggests the phases and vicissitudes of life itself in all its highs and lows. Meanwhile the performances from an ensemble of Leigh regulars turn these grand themes into something that lives and breathes.
As with his previous film Happy-Go-Lucky (2008), Leigh's principal concern here is no less than the nature of human happiness (and unhappiness). By juxtaposing the contentment of one family with the discontentment of others, he dramatises questions – genuine philosophical questions – as to whether happiness is a matter of genetic makeup, loving relationships, youth, attitude or pure luck. In a masterful summation of the film's motifs and the writer/director's broader preoccupations, the film's closing shot is a slow pan around a dinner table, drifting from High Hopes to devastatingly Bleak Moments. Yet unlike many of the characters, this is timeless enough to age very well.
Reviewed on: 16 Oct 2010
Share this with others on...