Eye For Film >> Movies >> America's Sweethearts (2001) Film Review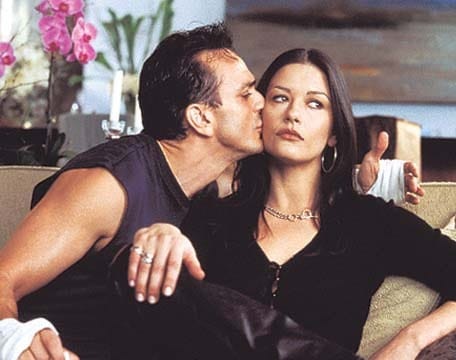 This would have been perfect for Cary Grant and Katharine Hepburn. Somehow the concept of two stars making popular romantic comedies together, while avoiding each other in private, fits into the old studio system far better than the 21st century $75million-a-pop Hollywood of today.
The star of America's Sweethearts is Julia Roberts, who fills a support role for Catherine Zeta-Jones and John Cusack. The mover-and-shaker is Billy Crystal, who co-wrote the script and plays Lee Phillips, the marketing boss for a second generation movie mogul (Stanley Tucci).
Eddie Thomas (Cusack) and Gwen Harrison (Zeta-Jones) are married, but decidedly estranged since she shacked up with a Spanish hunk called Hector (Hank Azaria), and Eddie went to ground in a Californian meditation centre. Their latest movie, directed by the darling of the avant-garde, Hal Weidmann (Christopher Walken), has been completed, but no-one has seen it yet, because the director won't let go of the print.
Lee has to organise a junket for the press in a resort hotel, miles from the public gaze, and somehow persuade Eddie and Gwen to behave as if they didn't want to kill each other, so that Weidmann can present his new movie in person.
The comedy is crammed with in-jokes and satirical bites at the hand that feeds it. The performances are uneven, with Roberts, as Gwen's once-overweight sister, playing it straight and Zeta-Jones going full out for the off-screen spoilt bitch diva with devastating effect.
Crystal is perfectly cast, as you would expect, and Cusack imperfectly miscast. What is required from Eddie is a lighter touch. George Clooney would have been good, Pierce Brosnan even better. Cusack is too real. He cannot wear the cloak of artificiality required of movie stars with any conviction.
As it is, Zeta-Jones steals the picture. In a way, she should do - hers is the best part - but in the hands of a less assured actress, Gwen could have turned into a grotesque caricature.
The movie is fun, without being furious. The plot falls down in a couple of places and some of the characters are short-changed, particularly Hector - Azaria overacts outrageously.
Let's not be picky. Julia is charming, Billy is perky and Mrs Michael Douglas is funny/beautiful.
Reviewed on: 18 Oct 2001
Share this with others on...