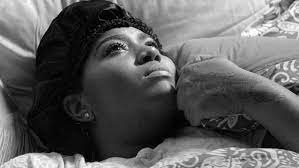 Three years before Garrett Bradley made her vérité documentary Time, about Rich Fox's two decade fight for her husband's release from jail, she made this equally affecting short film that was released as part of the consistently strong New York Times Op-Docs series.
Bradley met Rich during the making of this 12-minute short, which is shot with the same intimacy and in black and white. Aloné Watts is considering her future, in voice-over, she contemplates what marrying her boyfriend Desmond while he is behind bars would be like. Considering the dress and the ceremony itself, she says, "I want to be able to say, 'I feel happy'".
This is the personal, but as with Bradley's feature, the political is working in tandem. Rich notes the parallels between now and the oppression of the past, saying the judicial system "is designed, just like slavery, to tear you apart" - a sentiment its hard to argue with given that we've just learned Desmond has spent a year in a prison limbo state with no sentence and no verdict. Although this idea is just a small part of this film, it would go on to form the crux of the larger feature.
Bradley has a feel for emotional moments, knowing when to push in close and when to step back, with one of the film's key scenes, an explosive moment that highlights the stigma and fear that comes with incarceration, playing out entirely behind a closed front door. The film deservedly went on to win the Sundance Jury non-fiction short award in 2017 - and will be back at the festival in January 2022, as part of the Sundance Institute's 40th anniversary retrospective.
Watch it below:
Alone from The New York Times on Vimeo.
Reviewed on: 21 Dec 2021
Share this with others on...
If you like this, try:
Time