Eye For Film >> Movies >> A Very Long Engagement (2004) Film Review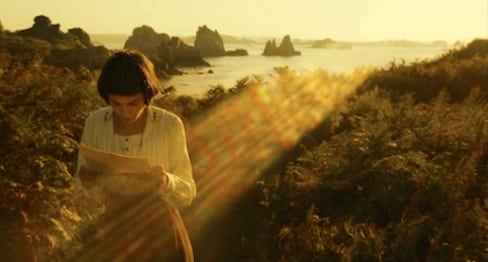 Because this isn't Amelie, A Very Long Engagement may be dismissed as a lesser work, when it deserves to be hailed as a miniature masterpiece.
Jean-Pierre Jeunet's ability to create worlds as original and frightening as an Edwardian ghost train (Delicatessen, The City Of Lost Children) was put to the test when he broke with his filmmaking partner Marc Caro and made the softest, most surprising love story, starring an unknown, elfin Audrey Tautou, that captivated continents.
Tautou remains his protagonist, but she is not the same girl. This is the period of the Great War, when the horror of the trenches and the sickening reality of maintaining discipline in a front line, fit for hogs, has not filtered through to those outside.
With the use of a voice-over narrative, Jeunet tells of five men sentenced to death for intentionally wounding themselves in the hope of repatriation. Amongst the chaos of command and counter command, humanity takes the initiative and, rather than being shot by firing squad, the men are forced over the top into no-man's-land to take their chances with enemy machine guns.
The youngest of the condemned is Manech (Gaspard Ulliel), a gentle country boy, who is betrothed to Mathilde (Tautou), his childhood sweetheart. Crippled by polio and orphaned after the death of her parents in a train disaster, Mathilde lives with her aunt and uncle on a small farm miles from Paris. Despite an official notification of Manech's death, Mathilde refuses to believe it and so the film becomes a detective story. Is the boy dead and if so, how did he die and who witnessed it? If still alive, where is he after the end of the war and why has he not returned?
The film's fabulous construct involves the lives and loves of the other "deserters", as well as lawyers, a private investigator and a murderous prostitute. The scenes in the trenches are as affecting as anything since Paths Of Glory and the reconstruction of early 20th century France is achieved with an artist's eye for detail. Memory in flashback slips effortlessly into the storyteller's sketchbook and is used as a tool of understanding.
Essentially life affirming and romantic, A Very Long Engagement has an innocence and purity, personified by the quietly determined Mathilde. Whether she finds Manech, or uncovers the mystery of his death, matters less than her journey of discovery.
Jeunet's heart may be on his sleeve, but the jacket has been lovingly pressed.
Reviewed on: 21 Jan 2005
Share this with others on...