Eye For Film >> Movies >> A Man Returned (2016) Film Review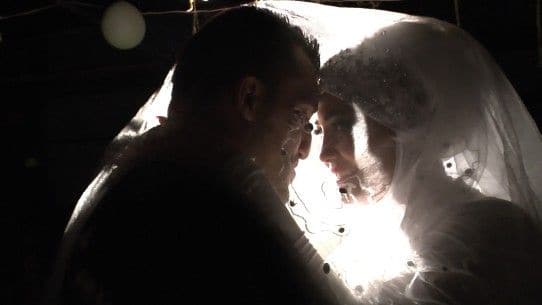 Mahdi Fleifel deservedly won a slew of awards for his 2012 documentary A World Not Ours, which put the lives of the displaced Palestinians living Ain el-Heweh refugee camp in Lebanon into the spotlight. With his latest short film A Man Returned, he goes back to the camp - which is home to more than 70,000 people - with his camera, to chart what happens when 26-year-old Reda finds himself back there too.
Reda has been in Athens for three years but, unable to secure refugee status, all he has to show for his time in Greece is an addiction to drugs and a fear of arrest. Despite this, he dreams of a life and is preparing to get married. "We need to make the impossible possible," he tells his fiancee over the phone.

Certainly the living circumstances look impossible, he gives Fleifel a guided tour of the room they'll live in, basically a shell, but by the time the wedding day arrives he has done what he can with what he has, right down to teddy bear pillowcases and a screen reading "Happy my love".
Fleifel slots right into Ain el-Heweh, where he lived until the age of five, so people pay his camera little heed as they go about their business. Reda makes no secret of his addiction and is frequently seen with a needle hanging out of his arm as though it was the most natural accompaniment to the conversations he's having.
Reda's attitude is a testimony to resilience and aspiration even in the direst circumstances but also heartbreaking. "Have you filmed the bird?" he asks Fleifel, "He's pretty." When the director turns the camera to look, the thing that strikes you most is the cage.
Reviewed on: 11 Jan 2017
Share this with others on...