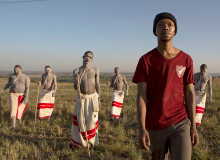 The Wound
The 46th edition of the New York festival celebrating new cinematic voices will run from March 15 to 26. It will open with Patti Cake$, starring Sundance breakout star Danielle Macdonald, feature gay coming-of-age drama Beach Rats as its centrepiece gala and close with Person to Person.
In addition to the feature film slate, there are two short film programmes.
View previous years coverage of the New Directors/New Films festival:
NDNF Latest Reviews
New Directors/New Films Features
Portrait of a Lady
William Oldroyd on austerity and colour-blind casting in his debut Lady Macbeth.
Making The Wound
John Trengove talks about the challenges of his coming-of-age drama.