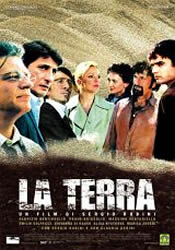 La Terra
This touring festival celebrating the best of Italian cinema has kicked off at the Edinburgh Filmhouse, Glasgow Film Theatre, Manchester Cornerhouse and London's Renoir Cinema and Riverside Studios. It will then call at Dundee Contemporary Arts centre from November 24, and wrap up at The Belmont, in Aberdeen, from December 1.
Currently celebrating its 13th edition, special events include a celebration of the centenary of the birth of Roberto Rosselini. This will feature screenings of Journey To Italy - Rosselini's portrait of a mariage in crisis - and a personal portrait of the director by his daughter, Isabella - My Dad Is 100 Years Old.
Also celebrated, is the life of actor Marcello Mastroianni, who died a decade ago. Marcello: A Sweet Life, considers his contribution to Italian cinema, while retrospective screenings of La Dolce Vita - about the life of a jaded reporter - give a chance to see the man in action.
View previous years coverage of the Italian Film Festival festival:
Italian Latest Reviews