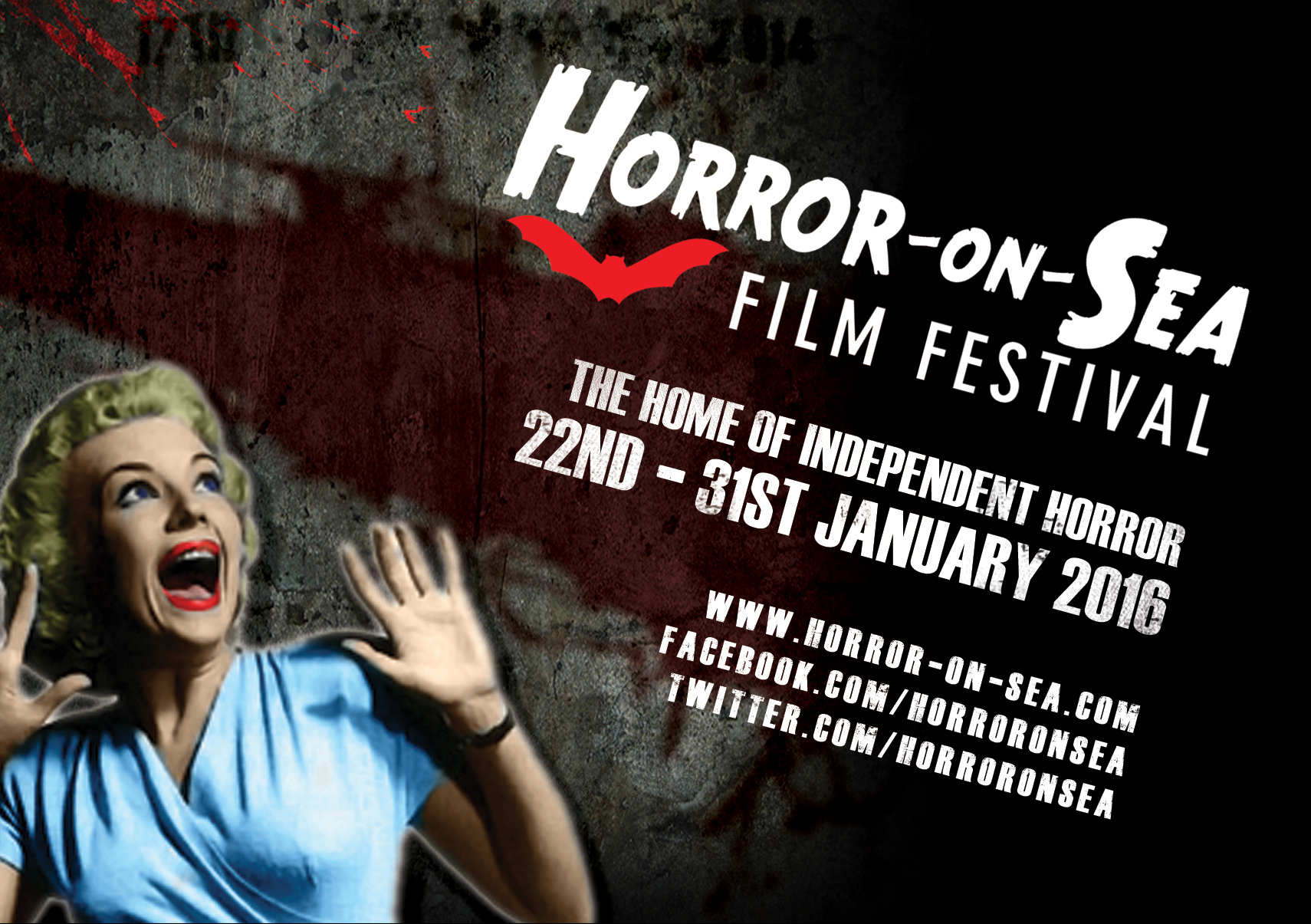 View other Horror-on-Sea Films by strand: Park Inn Palace Hotel Films
The Apostate: Call Of The Revenant
(Country: UK; Year: 2015; Director: Andy Dodd; Writer: Andy Dodd; Stars: James Bryhan, Terri Dwyer, Anthony Webster)
When a man is found in an abandoned car park, covered in hi ow blood, with four corpses beside him, detectives try to piece together what happened.
Beyond The Grave
(Country: Brazil; Year: 2012; Director: Davi de Oliveira Pinheiro)
In a world struck by some unspecified disaster, a vengeful police officer is hunting a possessed killer. With the dead walking the earth, and the living that remain almost as dangerous, the Officer picks up two teenagers, Nina and The Shooter, and hits the road.
Caesar And Otto's Paranormal Halloween
(Country: US; Year: 2015; Director: Dave Campfield; Writer: Dave Campfield; Stars: Sean Whalen, Vernon Wells, Andre Gower, Tiffany Shepis)
Half brothers Caesar and Otto live out some of horror's most terrifying scenes when they agree to housesit in a sinister old building.
Clinger
(Year: 2015; Director: Michael Steves; Writer: Gabi Chennisi Duncombe; Stars: Vincent Martella, Jennifer Laporte, Julia Aks, Shonna Major, Valeria Kingsley, Taylor Clift)
High school hotshot Fern was annoyed by her boyfriend's clinginess when he was alive. It's even worse now that he's dead and still won't get the message.
Dark Awakening
(Country: US; Year: 2014; Director: Dean Jones; Writer: Josh Edwards; Stars: Lance Henriksen, Jason Cook, Valerie Azlynn, William Pifer, Lauren Sesselmann)
A couple move into an old house and start to see ghostly apparitions of children.
Harvest (Høsten)
(Country: Denmark; Year: 2015; Director: Martin Sonntag, Kim Sønderholm; Writer: Bastian Brinch Pedersen, Martin Sonntag; Stars: Kim Sønderholm, Siff Andersson, Slavko Labovic)
Dodgy goings on in an organ transplant clinic.
Hollower
(Country: UK; Year: 2015; Director: Mj Dixon; Writer: Mj Dixon; Stars: Adam Dillon, Nicholas Vince, Becca Talulah)
Nathan is an agoraphobic, living alone and keeping to himself. Until he meets his neighbour Izzy and something awakens, Something that is pure evil.
The Horror Network Vol. 1
(Country: US; Year: 2013; Director: Brian Dorton, Joseph Graham, Manuel Marin and Lee Matthews; Writer: Douglas Conner, Brian Dorton; Stars: Nick Frangione, Artem Mishin, Jan Cornet, Brian Dorton, Javier Botet, Macarena Gómez)
Five tales of terror.
Horseface (Caradecaballo)
(Country: Spain; Year: 2015; Director: Marc Martínez; Writer: Marc Martínez; Stars: Josefa Centeno, Marc Martínez, Aimar Vega)
"A 20 Euros budget Comedy-Horror-Science Fiction-Thriller-Animal Drama short film starred by my Grandma and me."
Inquilinos
(Country: Spain; Year: 2014; Director: Jaume Balagueró; Writer: Jaume Balagueró, Manu Díaz; Stars: Antonio de la Torre, Manuela Velasco, Fele Martínez)
Trouble with the tenants.
I Am Monster
(Country: US; Year: 2014; Director: Lori Bowen, Shannon Lark; Writer: Lori Bowen, Shannon Lark; Stars: Shannon Lark, Adam Cardon, Katie Fray, Jeff Dylan Graham)
A necrophiliac who regularly vsits her local hospital morgue meets a corpse with ideas and desires of his own.
Juliet
(Country: France; Year: 2015; Director: Marc-Henri Boulier; Writer: Marc-Henri Boulier, Mickaël Fagnot; Stars: Alix Bénézech, Patrick Eudeline, Catriona MacColl, Bruno Putzulu)
The presence of an increasing variety of pleasure droids makes it hard for humans to imagine their own place in the world.
Kill, Granny, Kill!
(Country: US; Year: 2014; Director: Jacob Ennis; Writer: Gregory W. Brock, Jacob Ennis; Stars: Kayla Perkins, Roni Jonah, Dale Miller, Alicia M. Clark)
When a young woman takes a job as live-in help, she finds that her elderly employer is more than she bargained for.
My Horrible Love
(Country: UK; Year: 2015; Director: Charles Edmond; Writer: Charles Edmond; Stars: Jason Croot, Charlotte Devaney, Ben Edmond, Charles Edmond, James Hillier, Joe Jacobs)
Family members feud on a caravan holiday in Essex.
President Wolfman
(Country: US; Year: 2012; Director: Mike Davis; Writer: Mike Davis; Stars: Marc Evan Jackson, Paul Alvarez, Ashley Ann, Anthony Jenkins)
The President of the United States has been bitten by a werewolf and is loose on the streets of Washington on a killing rampage.
Ultravioleta
(Country: Spain; Year: 2014; Director: Paco Plaza; Writer: Paco Plaza; Stars: Maribel Verdú, Julián Villagrán, Marc Blanch)
A creature feature.
Waterborne
(Country: Australia; Year: 2014; Director: Ryan Coonan; Writer: Richard Barcaricchio, Ryan Coonan; Stars: Martin Blum, Don Bridges)
When a local ranger in a small country town finds an unidentified algae overwhelming the town's water supply, he knows something's not right. But it's not until the sun goes down that he discovers the true extent of the danger.