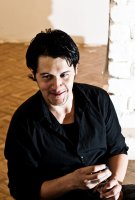 Festival director Tom Wilton prepares for the big day - picture by Stuart Crawford.
The first ever Bootleg Film Festival was held in Glasgow from September 11 - 13. The venue was the basement of the Offshore cafe on Gibson Street, normally used as an art gallery, and visitors to the cafe were encouraged to pop downstairs and give it a try. A screen and projector were rigged up and an intimate atmosphere created within the enclosed space.
Following a lengthy submissions procedure, over 45 films were shown at this event, including features and shorts. Several of the film-makers attended to see their work screened professionally for the first time. We'll be adding reviews here over the next few weeks.
View previous years coverage of the Bootleg Film Festival festival:
Bootleg Film Festival Features
Free and independent
Bootleg Film Festival shows indie films for nothing - we find out what its all about.