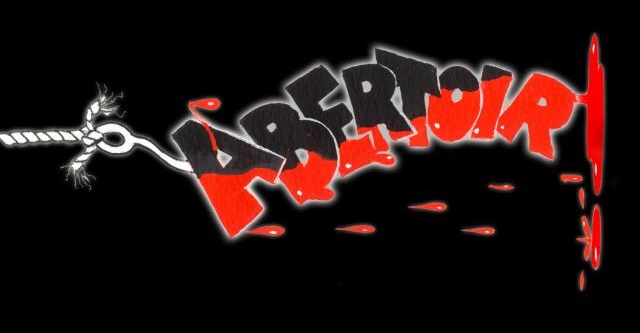 Abrakadabra
(Country: Argentina, New Zealand; Year: 2018; Director: Luciano Onetti, Nicolás Onetti; Writer: Carlos Goitia, Luciano Onetti; Stars: Clara Kovacic, German Baudino, Raul Gederlini)
A black-gloved maniac commits a series of gruesome murders.
Anna And The Apocalypse
(Country: UK, US; Year: 2017; Director: John McPhail; Writer: Alan McDonald, Ryan McHenry; Stars: Ella Hunt, Malcolm Cumming, Sarah Swire, Christopher Leveaux, Ben Wiggins, Marli Siu, Mark Benton, Paul Kaye, Ella Jarvis, Calum Cormack, Euan Bennet, Sean Connor, Janet Lawson, Janet Lawson, Kirsty Strain)
When the zombie apocalypse hits the sleepy town of Little Haven - at Christmas - teenager Anna and her high school friends have to fight, sing and dance to survive, with the undead horde all around them.
Assassination Nation
(Country: US; Year: 2018; Director: Sam Levinson; Writer: Sam Levinson; Stars: Bella Thorne, Bill Skarsgård, Suki Waterhouse, Susan Misner, Maude Apatow, Joel McHale, Cody Christian, Anika Noni Rose, Joe Chrest, Noah Galvin, Colman Domingo, Odessa Young, Kelvin Harrison Jr., Danny Ramirez, Lucy Faust)
This is a 1000 percent a true story about how the quiet, all-American town of Salem, absolutely lost its mind.
The Black Forest (A Mata Negra)
(Country: Brazil; Year: 2018; Director: Rodrigo Aragão; Stars: Carol Aragão, Jackson Antunes, Francisco Gaspar, Markus Konká, Clarissa Pinheiro)
In a forest based in the heart of Brazil, a girl sees her life change terribly when she finds the Lost Book of Cypriano, whose dark magic, besides bestowing power and wealth on its possessor, is also able to deliver a terrible evil upon the Earth.
Blue My Mind
(Country: Switzerland; Year: 2017; Director: Lisa Brühlmann; Writer: Lisa Brühlmann; Stars: Luna Wedler, Zoë Pastelle Holthuizen, Nicola Perot)
When a teenager who has trouble with her parents moves to Zurich with them, she starts to walk on the wild side.
Bloody Moon (Die Säge des Todes)
(Country: West Germany; Year: 1981; Director: Jesus Franco; Writer: Rayo Casablanca, Rayo Casablanca; Stars: Olivia Pascal, Christoph Moosbrugger, Nadja Gerganoff, Alexander Waechter, Jasmin Losensky, Corinna Drews, Ann-Beate Engelke, Peter Exacoustos, Antonia García, Beatriz Sancho Nieto)
A killer targets the students at a language school.
Cam
(Country: US; Year: 2018; Director: Daniel Goldhaber; Writer: Isa Mazzei; Stars: Madeline Brewer, Patch Darragh, Devin Druid, Samantha Robinson, Melora Walters)
A sex cam worker finds that her identity has been appropriated by a mysterious doppelgänger.
Friday the 13th
(Country: US; Year: 1980; Director: Sean S. Cunningham; Stars: Ari Lehman, Jeannine Taylor, Kevin Bacon, Robbi Morgan, Betsy Palmer, Peter Brouwer, Ronn Carroll, Ron Millkie, Walt Gorney)
A series of vicious murders occurs at a summer camp.
Friday The 13th: Part 3 (Friday The 13th: Part III)
(Country: US; Year: 1982; Director: Steve Miner; Writer: Carol Watson, Martin Kitrosser; Stars: Dana Kimmell, Paul Kratka, Richard Brooker, Anne Gaybis, Nick Savage, Rachel Howard, David Katims, Larry Zerner, Tracie Savage, Jeffrey Rogers, Catherine Parks)
A teenage adventure yarn, masquerading as a horror flick, with hillbilly Jason doing the honours.
In Fabric
(Country: UK; Year: 2018; Director: Peter Strickland; Writer: Peter Strickland; Stars: Gwendoline Christie, Sidse Babett Knudsen, Caroline Catz, Marianne Jean-Baptiste, Leo Bill, Hayley Squires, Richard Bremmer, Steve Oram, Julian Barratt, Karl Farrer, Gavin Brocker, Susanna Cappellaro, Fatma Mohamed, Sara Dee, Pano Masti)
Two stories about a cursed dress and its victims.
The Last House On The Left
(Country: US; Year: 1972; Director: Wes Craven; Writer: Wes Craven; Stars: Sandra Cassel, Lucy Grantham, David Hess, Fred J. Lincoln, Jeramie Rain, Marc Sheffler, Gaylord St. James, Cynthia Carr, Ada Washington, Marshall Anker, Martin Kove)
The attackers of two teenage girls inadvertently take refuge with their parents and face a terrible revenge.
The Last Man On Earth
(Country: US, Italy; Year: 1964; Director: Ubaldo Ragona, Sidney Salkow; Writer: William F Leicester and Richard Matheson; Stars: Vincent Price, Franca Bettoia, Emma Danieli)
When a disease turns all of humanity into the living dead, the last man on earth becomes a reluctant vampire hunter.
My Bloody Valentine
(Country: Canada; Year: 1981; Director: George Mihalka; Writer: Stephen Miller, John Beaird; Stars: Paul Kelman, Lori Hallier, Neil Affleck, Keith Knight, Alf Humphreys, Cynthia Dale, Helene Udy)
A decades-old folk tale surrounding a deranged murderer killing those who celebrate Valentine's Day turns out to be true to legend when a group defies the killer's order and people start turning up dead.
One Cut Of The Dead (Camera wo Tomeru na!)
(Country: Japan; Year: 2017; Director: Shin'ichirô Ueda; Writer: Shin'ichirô Ueda; Stars: Yuzuki Akiyama, Takuya Fujimura, Ayana Gôda, Takayuki Hamatsu, Manabu Hosoi, Hiroshi Ichihara, Satoshi Iwagô, Sakina Iwaji, Mao, Kazuaki Nagaya, Harumi Shuhama, Kyôko Takahashi, Yoshiko Takehara, Tomokazu Yamaguchi, Shuntarô Yamazaki)
Shooting a zombie movie in one take is harder than you think...
Piercing
(Country: US; Year: 2018; Director: Nicolas Pesce; Writer: Nicolas Pesce, based on the novel by Ryû Murakami; Stars: Christopher Abbott, Mia Wasikowska, Laia Costa, Wendell Pierce, Marin Ireland, Maria Dizzia, Dakota Lustick, Olivia Bond)
In this twisted love story, a man seeks out an unsuspecting stranger to help him purge the dark torments of his past. His plan goes awry when he encounters a woman with plans of her own. A playful psycho-thriller game of cat-and-mouse.
Party Hard, Die Young
(Country: Austria; Year: 2018; Director: Dominik Hartl; Stars: Elisabeth Wabitsch, Michael Glantschnig, Valerie Huber, Antonia Moretti)
Finally graduated and off to Croatia, it's supposed to be the party of their lives - but for Julia and her friends their graduation trip turns into a nightmare as one by one they're picked off by a mysterious assailant.
Prom Night
(Country: Canada; Year: 1982; Director: Paul Lynch; Stars: Jamie Lee Curtis, Leslie Nielsen)
Kim finds it hard to get into the spirit of prom night - it's the anniversary of her sister's murder and she increasingly suspects that the killer is still out there.
Puppet Master: The Littlest Reich
(Country: US; Year: 2018; Director: Sonny Laguna, Tommy Wiklund; Writer: S Craig Zahler; Stars: Alex Beh, Barbara Crampton, Nelson Franklin, Skeeta Jenkins, Udo Kier, Thomas Lennon, Michael Paré, Jenny Pellicer, Charlyne Yi)
The deceased Puppet Master's deadly dolls start killing on their own initiative.
Sleepaway Camp (Nightmare Vacation)
(Country: US; Year: 1983; Director: Robert Hiltzik; Writer: Robert Hiltzik; Stars: Felissa Rose, Jonathan Tiersten, Karen Fields, Christopher Collet, Mike Kellin, Katherine Kamhi)
Angela Baker, a traumatised and very shy young girl, is sent to summer camp with her cousin. Shortly after her arrival, anyone with sinister or less than honourable intentions gets their comeuppance.
Slumber Party Massacre
(Country: US; Year: 1982; Director: Amy Holden Jones; Writer: Rita Mae Brown; Stars: Michelle Michaels, Robin Stille, Michael Villella, Debra De Liso, Andree Honore, Gina Smika Hunter)
A high school student's slumber party turns terrifying as an escaped mental patient with a drill decides to crash the evening.
Summer of '84
(Country: US, Canada; Year: 2018; Director: François Simard, Anouk Whissell, Yoann-Karl Whissell; Writer: Matt Leslie, Stephen J Smith; Stars: Graham Verchere, Judah Lewis, Caleb Emery, Cory Gruter-Andrew, Tiera Skovbye, Rich Sommer, Shauna Johannesen, Jason Gray-Stanford, Mark Brandon, Aren Buchholz, Susie Castillo, J. Alex Brinson, Harrison Houde, William MacDonald, Patrick Lubczyk)
Summer, 1984: a perfect time to be a carefree 15-year-old. But when neighbourhood conspiracy theorist Davey Armstrong begins to suspect his police officer neighbour might be the serial killer all over the local news, he and his three best friends begin an investigation that soon turns dangerous.
The Tokoloshe
(Country: South Africa; Year: 2018; Director: Richard Kunzmann; Writer: Richard Kunzmann, Jerome Pikwane; Stars: Petronella Tshuma, Kwande Nkosi, Dawid Minnaar, Harriet Manamela, Manndla Shongwe, Yule Masiteng)
A destitute young woman with dangerously repressed emotions, lands a job as a cleaner at a rundown hospital, where she meets an abandoned child who may face supernatural peril.
Tumbbad
(Country: India; Year: 2018; Director: Rahi Anil Barve, Anand Gandhi, Adesh Prasad; Writer: Mitesh Shah, Adesh Prasad, Rahi Anil Barve, Anand Gandhi; Stars: Sohum Shah, Harish Khannaa, Anita Date, Mohd Samad, Jyoti Malshe, Deepak Damle, Dhundiraj Prabhakar Jogalekar, Sohum Shah, Harish Khannaa, Anita Date, Mohd Samad, Jyoti Malshe, Deepak Damle, Dhundiraj Prabhakar Jogalekar)
A greedy boy seeks out hidden riches in the dungeon beneath an ancestral house guarded by a terrifying deity.
The Wind
(Country: US; Year: 2018; Director: Emma Tammi; Stars: Caitlin Gerard, Julia Goldani Telles)
In the Western frontier of the United States of America in the late 1800s, a plains-woman is driven mad by the harshness and isolation of the untamed land.