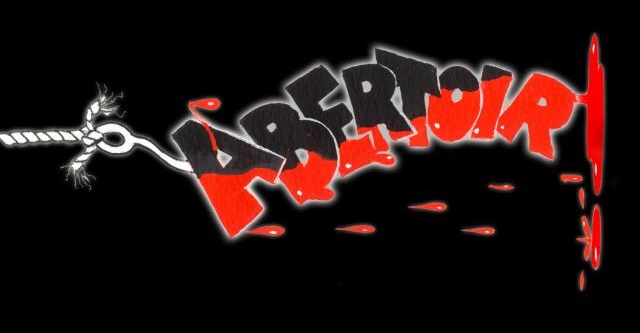 Aaaaaaaah!
(Country: UK; Year: 2015; Director: Steve Oram; Writer: Steve Oram; Stars: Steve Oram, Julian Rhind-Tutt, Toyah Willcox, Noah Fielding, Julian Barratt)
Alpha Male Smith and his Beta, Keith, move to take over a local community. They hook up with restless Female, Denise, igniting a deadly feud in which emotions run high and deep-seated grudges resurface amongst the tribe. Are we not men?
The Abominable Dr Phibes
(Country: UK; Year: 1971; Director: Robert Fuest; Stars: Vincent Price, Joseph Cotten, Hugh Griffith, Terry-Thomas, Virginia North)
The disfigured survivor of a car crash uses the ten plagues of Egypt as inspiration when murdering those he blames for his wife's death.
Bone Tomahawk
(Country: US; Year: 2015; Director: S Craig Zahler; Writer: S Craig Zahler; Stars: Sean Young, Kurt Russell, Patrick Wilson, Lili Simmons, Matthew Fox, Michael Paré, David Arquette, Kathryn Morris, Sid Haig, Richard Jenkins, Jamie Hector, Geno Segers, James Tolkan, Eddie Spears, Zahn McClarnon)
Four men set out in the Wild West to rescue a group of captives from cannibalistic cave dwellers.
The Descent
(Country: UK; Year: 2005; Director: Neil Marshall; Writer: Neil Marshall; Stars: Shauna Macdonald, Natalie Jackson Mendoza, MyAnna Buring, Nora-Jane Noone, Molly Kayll, Alex Reid, Craig Conway, Saskia Mulder, Oliver Milburn, Stephen Lamb)
Six girls on a caving expedition find they are not alone in the dark.
Deadman Inferno
(Country: Japan; Year: 2015; Director: Hiroshi Shinagawa; Stars: Shô Aikawa, Yûichi Kimura, Hideo Nakano, Kunihiro Kawashima, Red Rice, Erina Mizuno, Sawa Suzuki)
A yakuza boss just released from prison sets out to try and save his daughter, who is stranded on an island full of zombies.
Dr Phibes Rises Again
(Country: UK; Year: 1972; Director: Robert Fuest; Stars: Vincent Price, Robert Quarry, Peter Cushing, Beryl Reid, Terry-Thomas)
Dr Phibes awakens in his tomb and sets out in search of n ancient papyrus that could help him resurrect his wife.
Fatal Frame
(Country: Japan; Year: 2014; Director: Mari Asato; Stars: Aoi Morikawa, Ayami Nakajô)
After the most popular girl in a boarding school locks herself away, other girls start disappearing.
Francesca
(Country: Argentina; Year: 2015; Director: Luciano Onetti; Writer: Luciano Onetti, Nicolás Onetti; Stars: Raul Gederlini, Silvina Grippaldi, Luis Emilio Rodriguez, Gustavo D'Alessandro)
Is a series of grisly murders connected to the death of a young girl 15 years ago?
Hollow
(Country: Vietnam; Year: 2014; Director: Ham Tran; Stars: Nguyen Hong An, Lam Thanh My, Ngoc Hiep Nguyen, Bao Son Tran)
After a drowned girl mysteriously reappears, her sister tries to find out what's going on.
The Invitation
(Country: US; Year: 2015; Director: Karyn Kusama; Writer: Phil Hay, Matt Manfredi, Phil Hay, Matt Manfredi, Matt Manfredi; Stars: Michiel Huisman, Logan Marshall-Green, Emayatzy Corinealdi, Mike Doyle, John Carroll Lynch, Tammy Blanchard, Lindsay Burdge, Marieh Delfino, Toby Huss, Michelle Krusiec, Karl Yune, Aiden Lovekamp, Jordi Vilasuso, Danielle Camastra, Trish Gates)
Sinister goings on at a dinner party.
Profondo Rosso (Deep Red)
(Country: Italy; Year: 1975; Director: Dario Argento; Writer: Dario Argento, Bernardino Zapponi; Stars: David Hemmings, Daria Nicolodi, Gabriele Lavia)
The witness to a murder teams up with a journalist to try and uncover the killer in this heavily stylised giallo.
Rasputin: The Mad Monk
(Country: UK; Year: 1966; Director: Don Sharp; Writer: Anthony Hinds; Stars: Christopher Lee, Barbara Shelley, Richard Pasco, Francis Matthews, Renée Asherson, Dinsdale Landen, Suzan Farmer)
A wayward biopic of one of history's most astonishing and controversial figures.
Robbery
(Country: Hong Kong; Year: 2015; Director: Fire Lee; Stars: Derek Tsang, J.Arie, Lam Suet, Feng Tsui Fan, Philip Keung, Anita Chui)
A down-on-his-luck guy sees things go from bad to worse in his new job as a cashier.
Scream And Scream Again
(Country: UK; Year: 1970; Director: Gordon Hessler; Stars: Vincent Price, Christopher Lee, Peter Cushing)
Detectives investigate a series of murders in which bodies are found drained of blood.
Sensoria
(Country: Sweden; Year: 2015; Director: Christian Hallman; Stars: Lanna Ohlsson, Norah Andersen, Alida Morberg, Boel Larsson)
A lonely woman trying to rebuild her life moves into an apartment building whose inhabitants have a dark secret.
Tales Of Halloween
(Country: US; Year: 2015; Director: Darren Lynn Bousman, Axelle Carolyn, Adam Gierasch, Andrew Kasch, Neil Marshall, Lucky McKee, Mike Mendez, Dave Parker, Ryan Schifrin, John Skipp , Paul Solet; Writer: Axelle Carolyn, Andrew Kasch, Neil Marshall, Lucky McKee, Mike Mendez, Dave Parker, Ryan Schifrin, Clint Sears, John Skipp; Stars: Lin Shaye, Pollyanna McIntosh, John Landis, Adrienne Barbeau, Greg Grunberg)
An anthology of short horror tales set in a sleepy American suburb one Halloween night.
The Ninja War Of Torakage
(Country: Japan; Year: 2015; Director: Yoshihiro Nishimura; Stars: Takumi Saitô, Eihi Shiina, Yuria Haga, Nana Seino, Maki Mizui)
A ninja couple go in search of the missing piece from a treasure map in order to try and save their kidnapped son.
They Look Like People
(Country: US; Year: 2015; Director: Perry Blackshear; Writer: Perry Blackshear; Stars: MacLeod Andrews, Evan Dumouchel, Margaret Ying Drake, Elena Greenlee, Mick Casale)
A man staying with a friend he hasn't seen for years receives a call, in the wee small hours, telling him to prepare for war, leave the city and beware of infection. Should he protect his friend from the impending apocalypse, or from himself?
The Witch
(Country: Canada, US; Year: 2015; Director: Robert Eggers; Writer: Robert Eggers; Stars: Anya Taylor Joy, Ralph Ineson, Kate Dickie, Harvey Scrimshaw, Lucas Dawson, Ellie Grainger)
A family of New England settlers find their faith tested when their son disappears... possibly snatched by something evil in the woods.