Eye For Film >> Movies >> Willie Dynamite (1974) DVD Review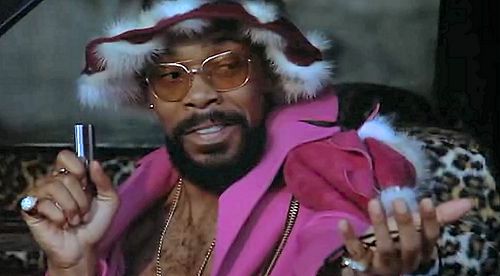 Gilbert Moses' vivid Blaxploitation drama is a curious collectors' item but is easily outshone here by the supporting feature: Ice-T's guide to Blaxploitation. Delivered in fine style by a man who really knows how to wear those clothes well, it's a personal tribute to a genre that, rightly or wrongly, did a lot to raise the confidence of black American men. Sure, it wasn't prefect, but as the man says, "To me it was a step up from getting whupped." Here he takes viewers on a whistlestop tour that takes in films like Sweet Sweetback's Baadasssss Song, Shaft, Human Tornado, Super Fly TNT and The Mack, discussing sexuality and the importance of the dominant black male role model, before moving on to the likes of Cleopatra Jones and Coffy to discuss how women like Pam Grier turned the tables on a genre that had thrived on misogyny. He draws a clear line between thee and films like Black Shampoo, Top Of The Heap and The Black Gestapo which were made later, by white people, to cash in on the phenomenon. There are impressive contributions from film historian Donald Bogle, whose presence is a reminder that there's also a real shortage of black voices in criticism, and bell hooks turns up to complicate matters with astute comments about the complexity of prejudice.
In addition to this, there's the trailer, which suffers from most of the same problems as the film and fizzles out at the end. Watch it first only if you want to be shocked later by its spinning of abuse as romance.

Reviewed on: 05 Feb 2017
Share this with others on...