Eye For Film >> Movies >> Six Feet Under: The Complete Fifth Series (2005) DVD Review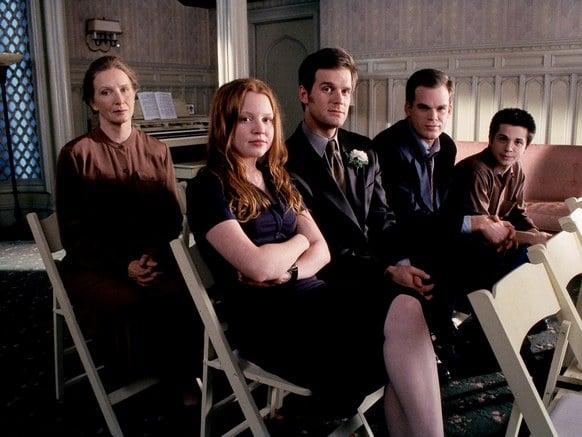 Just as the bodies have been prepared over 63 episodes, so this box set of the final season looks good. The interactive menus are artistically laid out and the quality of both the sound and print is as excellent as you would expect from such a recent series.
The commentaries are mostly for die-hard fans only. Running over Episodes, 4, 6, 7, 9, 11 and 12 they vary from borderline dull (writer Craig Wright and director Alan Poul's commentary on Time Flies) to more engaging. The best are probably those covering The Rainbow Of Her Reasons, which is given a thoughtful (without being leaden) consideration by actresses Frances Conroy and Jill Soloway, actors Michael C Hall and Lauren Ambrose's take on episode 11 (Static) and Alan Ball's reflective consideration of the season finale, Everyone's Waiting.
The three featurettes - two forming halves of a whole - are engaging enough. The first is a 20-minute, highly polished retrospective with the second being 25 minutes more of the same. There is a tendency for the cast and crew to engage in the maudlin and the self-centred. The best moments are when the main cast members select their favourite moments from across all five series.
Life And Loss: The Impact Of Six Feet Under is the most interesting of the three features on offer. Running at 25 minutes, it sees Alan Ball, Oscar winning writer of American Beauty and creator of the series, talk about the origins of the show ("I wanted to bring death out of the closet") and offers a string of funeral directors ready to endorse the show as the best thing since sliced bread. Easy though it could be to get carried away on a wave of enthusiasm here, it is pretty difficult to believe that all funeral home owners would feel the same, but I guess that's the joy of writing your own featurettes in-house.
Overall, this is a decent set of extras, but nothing to go wild about.
Reviewed on: 11 Apr 2006
Share this with others on...