Eye For Film >> Movies >> Patema Inverted (2014) Blu-Ray Review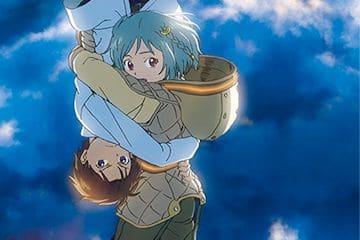 Patema Inverted can be viewed in English, French and Japanese with English or French subtitles. Apart from the film there is quite a lot to enjoy on the Blu Ray. First up there is an enthusiastic audio commentary to the film with Yukiyo Fujii, Nobuhiko Okamoto and Shintarô Oohata who voice Patema, Age and Porta and with Mikio Ono the producer. There are also interviews with Yukiyo Fujii and Nobuhiko Okamoto a couple with the director Yasuhiro Yoshiura and footage of all three at the film's premier. Some interesting points about are made about the film but the interviews get a little samey. In addition there is an extensive trailer reel and a number of scenes that can be viewed upside down (which makes sense in the context of the film).
Reviewed on: 24 Nov 2014
Share this with others on...