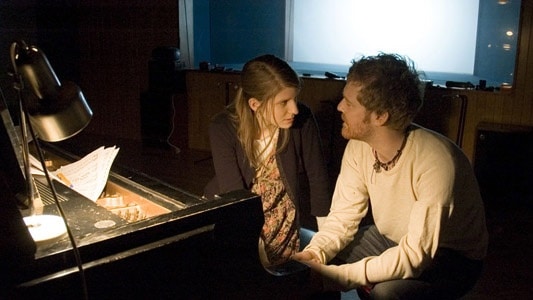 Once is the kind of film that could very possibly sit in your DVD collection always being considered briefly and then passed over when you're choosing what to watch. A "maybe next time". Then, once in a while, it'll jump out at you from the rest and you will enjoy it again as much as you did the first time you saw it.
The picture and stereo soundtrack transfers here do both writer/director John Carney's handheld camera work and Glen Hansard's songs fine justice. The extras themselves are very much in keeping with the amiable tone of the Once. Spartan, on the hoof, but sincere, committed and involving.

On-set filming and talking heads with Carney, Hansard and co-star Markéta Irglová are shared across the two featurettes, Making A Modern Musical and More Guy, More Girl. Everything is appealing enough, especially Carney expounding on how he developed the idea and project and then how the non-professional actors approached the challenges. Footage of the very ad hoc and flexible filming further reinforces the grass-roots feel.
The two commentaries from the trio are more engaging, with the first focusing solely on the music in the film. Inevitably there are stretches of silence in between, but each contributes with interest when the songs come around, most recorded whilst filming. The musicians pronounce the creative process while Carney sews the music into the narrative.
The second commentary is more standard in its exposition and anecdote, although just as likeable. Carney is clearly chuffed as he talks about his efforts to make an 'unselfconscious musical' with music as the chief way in which the main characters communicate. Deservedly so, having made it on the proverbial shoestring and then grossed more than $9 million. All three comment humorously and earnestly on their shared experience and how they pitched in to create the rough and ready naturalistic style - from spontaneous occurrences on camera, the actors wearing their own clothes, being filmed in cafés that they often visit themselves anyway, to a lump of blanketed plastic standing in for a sleeping child. It all makes for a charming hour or so spent with the makers of a consistently tender and moving film.
Reviewed on: 25 Feb 2008
Share this with others on...