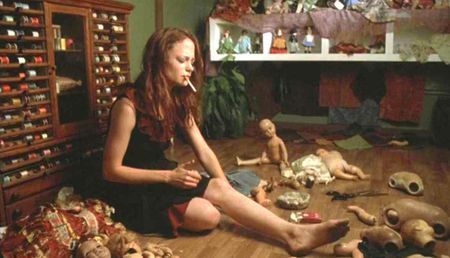 May certainly benefits from being seen in HD. There is a lot more detail visible than on the old DVD releases. The Blu-ray contains a shed load of extra features.
First there are three audio commentaries: one by Alexandra Heller-Nicholas author, academic and film critic, trying not to coo over Jeremy Sisto, and two featuring the director Lucky McKee along with various members of cast and crew, and a lot of light hearted banter. There are eight interviews with members of cast and crew. There is a short documentary piece by Miranda Corcoran, From Frankenstein To May, and a compilation of on-set footage.

This adds up to several hours of extra material. This material inevitably becomes a bit samey but there is a lot of it. One disappointment is that the original film poster/DVD cover art has been replaced. That artwork was striking; it drew people to the film. May as the blessed virgin in a halo of scissors and scalpels is no more. Now it is unremarkable, generic.
Reviewed on: 24 Jul 2023
Share this with others on...