Eye For Film >> Movies >> It's A Wonderful Life (1946) DVD Review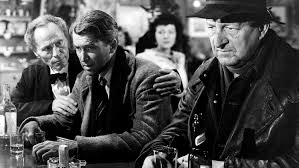 This digitally remastered and, therefore, very smooth version of the film is introduced by Frank Capra Jr. and followed by a half hour Making Of docuchat, narrated by Tom Bosley.
In fact, these are almost identical. They recount the same things - the journey from Phillip Van Dorn Stern's story, The Greatest Gift, to the script, Frank Capra's inspirational involvement, the casting process and winning performances from the actors, the fate of the film, from its reception in 1946 to today's Christmas classic status. A good yarn, but spun twice? Ohm, yawn...
Moreover, Frank Capra Jr.'s Personal Remembrance is too standard and stony to merit its name. Dully scripted and poorly delivered, the only thought-provoking piece of information is how a legal loophole in the early Seventies - a missed deadline for the renewal of the copyright - brought the film into the public domain and thereafter onto so many TV screens. Could the opposite of "out of sight, out of mind" apply? How much did that piece of bureaucratic incompentence help the movie become everyone's Christmas companion?
The Making Of doc offers better stories, ranging from snippets about the sets, casting alternatives, improvisations and surprises left in the final cut and those edited out, to delightful details, such as the role played by Jimmy the Raven in Capra's films, or the composition of snow on that hot summer's shoot - the film actually won an Academy Award for new developments in snow production.
It is quite touching to see Frank Capra himself puzzling over the magical effect of his creation - dubbed by some, Capracorn.
"There's more to the picture than I put into it. There's more to the picture than was written. There's more to it than we thought we had."
In other words, the result is somehow more than the sum of its components, which applies equally to a good marriage and some chemical reactions.
Reviewed on: 12 Dec 2003
Share this with others on...