Eye For Film >> Movies >> Insidious: Chapter 3 (2015) DVD Review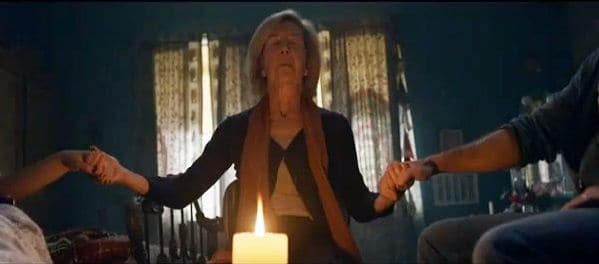 Ghost stories are especially well suited to home viewing, either late at night when you're all alone with the wind rattling the windows, or in he company of nervous friends. This one benefits from a larger screen if you can find one, because some of its scenes are designed to be visually overwhelming and others are just dark, to the point where there's a risk of detail being lost. It sill looks very pretty regardless of size, however.
The film is supported by an impressive raft of extras providing behind the scenes access and insights from cast and crew. Lin Shaye has a lot to say about the process of developing he character, whilst Stephanie Scott worries her mother by explaining that he day at work will include getting hit by a car. Leigh Whannel talks at length about the challenges of taking the helm of such a celebrated franchise, and James Wan makes a brief appearance, disconcertingly cheery s usual, to compliment him on his achievements. There's also a curious segment, presumably aimed at the believers, in which a self-proclaimed psychic takes us on a tour of a haunted building and explains what being a medium involves.
The deleted scenes are very brief and don't amount to much, so don't hold you breath hoping for secrets to be revealed. Nevertheless, this is an attractive package clearly put together by people who are about what they're doing.
Reviewed on: 11 Oct 2015
Share this with others on...