Eye For Film >> Movies >> In The Shadow Of The Moon (2007) HD-DVD Review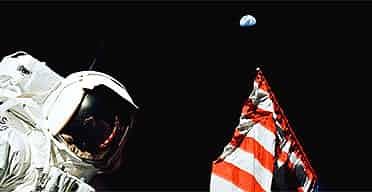 In The Shadow Of The Moon proudly boasts no digital trickery in its stock footage, and what you see is what they uncovered after cracking open the archive film stock. To this end, the film is a mixture of high-definition current day interview video and carefully transferred film of all stocks and varieties - a concoction of rare reels of sometimes never-before-seen footage from NASA and other sources. This is presented in 1080p - encoded in VC-1 - in a variety of aspect ratios begetting the sources. It is as I remember seeing it at the Edinburgh Film Festival - an excellent video presentation.
Interestingly enough, we are blessed with a DTS Master Audio 5.1 surround track in English. There is no player which can decode this lossless format, but it can be fed to an external receiver, which can. Alternatively, the core lossy DTS track can be decoded by all players, or sent over TOSLink. I do not have the required HDMI-ready reciever to decode the lossless track, so make do with the lossy DTS at 1.5Mbps.
Anyway, it's a rather nice track - almost everything we hear that isn't a human voice is artificially created, and it's all very crisp and cleanly spread across the surround sound field. The magnificent swelling and awe-inspiring score by Phillip Sheppard is a particular treat, especially when placed cleverly against the well-cut footage.
The extras are short and sweet. UK HD DVD owners lose out on director's commentary and all the Ron Howard extras, which the ThinkFilm US DVD had. What we do end up with is a sterling collection of deleted scenes, totalling 57 minutes, presented in 480i video and Dolby Digital Plus 2.0 stereo. There is a great deal of rewarding and informative information conveyed that doesn't fit the flow of director David Sington's main narrative. It's great to have all this on the disc.
Additionally, there is a Scoring Apollo: A Short Feature with Composer Phillip Sheppard - where the precocious and skilful composer takes us through his work. Again, this is fabulous and interesting bonus material, running at 11 minutes.
A theatrical trailer is also included.
The lack of commentary is a mild disappointment - there are any number of recent HD DVD releases which boast excellent AV and additional audio tracks. However, this is the only high-definition release of In The Shadow Of The Moon and HD DVD owners have stellar A/V to be pleased about.
Recommended.
Reviewed on: 01 Apr 2008
Share this with others on...