Eye For Film >> Movies >> In The Realm Of The Senses (1976) DVD Review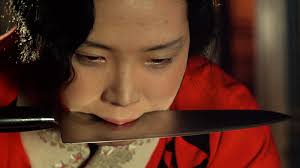 The classical beauty of Nagisa Ôshima's film is enhanced by a lush restoration. It is being released on a Studio Canal double-play DVD and Blu-ray disc. Unfortunately, only the DVD was available for review, but the Blu-ray includes the following extras: Recalling the Film - a 2003 Program featuring interviews with consulting producer Hayao Shibata, line producer Koji Wakamatsu, assistant disrector Yoichi Sai and distributer Yoko Asakura; a panel discussion at Birkbeck College with Japanese film scholars; Once Upon A Time: In the Realm of the Senses; and deleted scenes.
Reviewed on: 18 Oct 2011
Share this with others on...