Eye For Film >> Movies >> Drunken Master (1978) Blu-Ray Review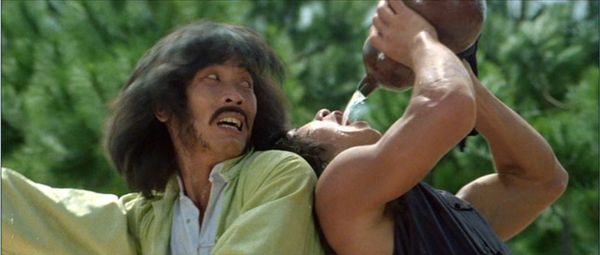 This Blu-ray edition of the early Jackie Chan classic makes the film look great and is accompanied by an extensive set of extras. The accompanying booklet is attractively designed and includes a detailed introductory essay - read it first if you want to, because this isn't really a film where spoilers are an issue. The trailer overstays its welcome a bit and the 'music promo' comes closer to what modern audiences are likely to expect a trailer to be, but both condense some great fight choreography, as does the kicking showcase.
The interviews here are lengthy and substantial. Gareth Evans talks about the influence of Drunken Master on The Raid and quite a bit of material from that film is included by way of illustration, with Evans trying hard to present Iko Uwais as the new Jackie Chan. The original isn't going anywhere, however, and is at his most effusive and charming here. Overall, this is a treat for fans, and a rare thing to have in your collection - a film that's just as suitable for drunken evenings with friends as it is for family entertainment on a Saturday afternoon.

Reviewed on: 24 Apr 2017
Share this with others on...