Eye For Film >> Movies >> The Driller Killer (1979) Blu-Ray Review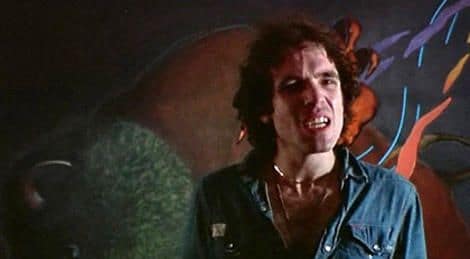 This beautifully presented steelbook edition of Abel Ferrara' classic video nasty comes with a wealth of extras guaranteed to thrill fans. The film itself is included in both the original theatrical version ad the attractive new 4K restoration (this critic's opinion is that it's a film that suite looking scummy), in a choice of aspect ratios. Also present is the full length Ferrara documentary Mulberry St., a much better though rather less important piece of cinema which presents an interesting point of contrast in terms of what the director has done with his career since.
The lengthy interview with Ferrara included here is a delight from start to finish. He rambles as always, taking us right through from his first cinema experience watching Bambi ("I was scared out of my mind") to his recent work, but managing to get in a fair bit about The Driller Killer en route. He also contributes to a commentary track on the film in which, in between wistful reminiscences about the actresses' breast, he delivers numerous amusing anecdotes.

Next to Ferrara himself it's difficult for others to shine. Author Alexandra Heller-Nicholas's reflections on his career come across as a bit like an undergraduate student dissertation, terribly earnest and not very incisive, but at least the clips are entertaining. There's more theorising in the accompanying booklet. Last up, the trailer (which includes some material not actually present in the film) is testament to the film Ferrara probably had in his head rather than the one that appears onscreen, and hints at what might have been had he approached it with a little more experience - but the rough edges are part of the pleasure of the thing. For any fan of Ferrara's work or of this kind of cinema, this steelbook is a must.
Reviewed on: 26 Nov 2016
Share this with others on...