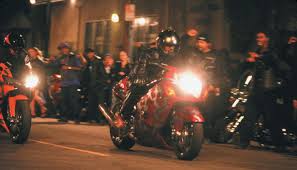 Biker Boyz is presented in a manner befitting such a recent film. One scratch aside, the print and its transfer are flawless. The surround sound gives the roaring engines and bassy soundtrack the opportunity to grab the audience. Subtitling is all present and correct, on both the main feature and the extras.
Sadly, the extras are just plain boring. The deleted scenes aren't even interesting on the level of seeing what was taken out and why. The behind the scenes documentary is little more than speaking to some of the actors, who say how much they like bikes. There's no insight into the film, or the process of making the film, and only limited insight into the people the film is based on.

Perhaps the inclusion of Michael Gougis's newspaper article, on which the movie was based, would have lifted the extras above the mundane.
Reviewed on: 21 Nov 2003
Share this with others on...