Eye For Film >> Movies >> Arthur And The Invisibles (2006) DVD Review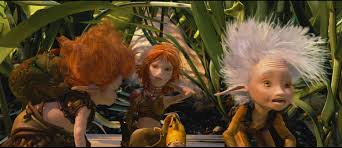 Despite a nice idea and reeling in some A-list voice talent, Arthur And The Invisibles hampered its own smarts by never being able to get away from Bresson's woefully under-cooked script. Rather than try to make amends, though, this DVD release just politely coughs a weak apology and asks could we try to forget the whole thing, please.
Kicking off with the film's Quest for Love music video with Jewel, followed by a few of the chanteuse's dollops of saccharine, quite frankly is an insult to kids and adults alike. The next vid, Beautiful Day, is rapped by pre-teen Elijah and doesn't seem to have anything to do with the film at all. At all. Luckily, I'm sure I'm of the wrong generation to know who the hell he is and, equally luckily, will probably never find out. As far as extras go for the young kiddies, that's your lot.
The Voices of Arthur And The Invisibles offers a glimmer of interest. There are shots of most of the cast working in the studio, such as Snoop Dogg, Emilio Estervez and Chazz Palminteri, and brief chats with a few others - but that glimmer is as short lived as the featurette. There is nothing about any other aspect of the filmmaking, not even a contribution from Bresson, who had apparently cherished the project for over five years. Pointedly, as well as there being no sign of Madge, de Niro or Bowie, perhaps the people we just might have wanted to hear from, there's nary a mention of them either. Now that is being invisible.
Reviewed on: 28 Jun 2007
Share this with others on...