Eye For Film >> Movies >> Running With Scissors (2006) Film Review
Running With Scissors
Reviewed by: Chris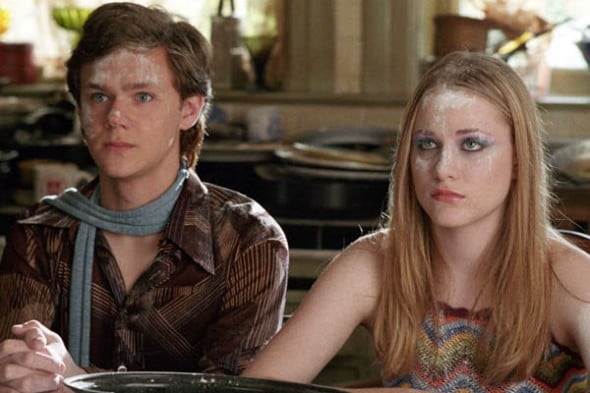 Do you ever wonder where the games we played as children came from? Or what they meant? When I was a child, my mother taught me a game - maybe you know it - called Rock, Paper, Scissors. Rock can crush scissors, paper can wrap rock, scissors can cut paper.
Running With Scissors has lots of games. And childishly clever characters. Lots of messed up people. Nice, wealthy, eccentric, dysfunctional, messed up people. Go play.
Augusten Burroughs (Joseph Cross) remembers what it was like to be a kid. Adults always had the upper hand with their idiotic, stupid games, like his mom, Deirdre (Annette Bening), playing at being a poet, as if she had bipolar delusions of grandeur, or something. Norman (Alec Baldwin), his dad, played quite well at living in the real world, except mom's psychiatrist, Dr Finch (Brian Cox), who maybe fancied her, said he was a homicidal maniac and so had to go.
Finch asked mom about her bowel movements and found they were symbolic of her constipated life and got her to admit she had suicidal thoughts after sex and gave her Valium. Augusten secretly imitated mom, standing in front of a microphone and thanking a large imaginary crowd for coming to his poetry reading. They ended up joining Finch's extended family, which included happily eccentric Hope (Gwyneth Paltrow), luscious Natalie (Evan Rachel Wood) and long-enduring wife Agnes (Jill Clayburgh), in a chaotic, rundown mansion.
Up to this point, Running With Scissors is reminiscent of writer/director Ryan Murphy's TV success, Nip/Tuck. The pampered characters enjoy the luxury of unbelievably weird neuroses - and why not? There's always a suitable specialist to minister to the needs of the unbearably vain. Finch has a "masturbatorium" next to his office, which he is happy to show Deirdre and her husband - the room that is. Each time we are tempted to think this is an intellectual gross-out, we wonder if he is really using skilful psychological techniques to enable his patients to release their inner anxiety/creativity/pent-up sexuality, or whatever. He can run rings around the audience as easily as his patients.
Once inside the squalor and chaos of the Finch household, any pretence at normality evaporates. Finch is "normal" because he's in charge - and a doctor, after all. Most of the family talk varyingly watered down versions of his psychobabble. Natalie flirts with Augusten, using a version of doctors-and-nurses, plus an antique electric shock therapy machine, only Augusten pretends to be Deirdre and Natalie pretends to be her doctor, mimicking the scene in another room. When disturbed, she calmly explains to Finch that Augusten has a repressed neurosis that they need to dig deeper to release - quite day-to-day stuff.
An infuriating aspect of the film is that we never quite know what genre it is in, or what will happen next. Almost anticipating our unease, Augusten asserts, "I want rules, because without them life is just a series of surprises." We treat it as a mock naïve comedy, looking for things to latch onto and finding something different, usually amusing. But after an hour or so, we want something more substantial than an intellectual screwball. Whether it can deliver depends on how much effort you make, and especially if you can give it your full attention once it has outstayed its welcome.
Is Deirdre really the head case she seems? Consider the intelligence with which she lambasts her fellow poets, the mental acuity before the drugs set in. Is Noman anything except normal? Why should Augusten turn out badly, and does he?
To escape from the mystery, clues fall like scenes from a film noir. Finch's first appearance is almost in monochrome. Whatever he is, he is unaffected by the colourfully disorientating shifts of mood. Later, we see the same muted colours surrounding a slightly older Augusten, and Deirdre aspires to be on stage in a black dress against black velvet curtains.
Much of the film recalls the characters in The Royal Tenenbaums - links with Paltrow and Baldwin may be intentional - although less lovable, and many in the audience will cut out before the denouement. The trick of running with scissors is not to fall on them in the process. In his complex rites-of-passage, Augusten does this remarkably well. Teach Your Children, as the Crosby, Stills and Nash song says. Even if you don't know how.
Reviewed on: 04 Feb 2007
Share this with others on...