Eye For Film >> Movies >> Perfect Sense (2010) Film Review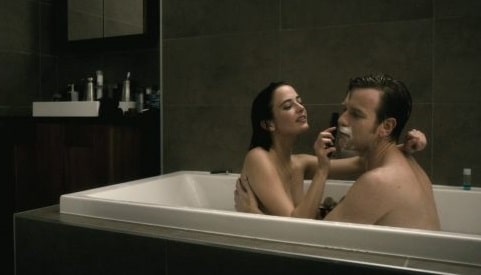 Perfect Sense tells the tale of a spontaneous and passionate tryst between Michael, a lascivious chef (Ewan McGregor) and Susan, a chain-smoking epidemiologist (Eva Green), against the backdrop of a global pandemic. Following on from works such as the sublime Hallam Foe (2007) and the surprisingly haunting Young Adam (2003), David Mackenzie delivers a picture that seeks to ask difficult questions of the viewer, and challenge the archetypal humdrum of mainstream Hollywood.
The fervent appetite for global disease, in cinematic terms, has spawned notable offering of late, with Steven Soderbergh's all-star Contagion (2011) following on from Fernando Meirelles' outstanding Blindness (2008). At heart, Perfect Sense presents the viewer with a comparatively original concept, though the core notion holds much in common with Meirelles' picture. It is unfortunate that Mackenzie's vision suffers somewhat, in what is ultimately an awkward and laborious execution.

Our principle protagonists, Michael and Susan, meet over a nonchalant cigarette while whiling away the hours before the inevitable loss of their sense of smell – which is heralded by an ominous bout of profound grief. Susan undergoes this episode of tearful introspection while dining on monkfish in Michael's restaurant, fortunate that her new-found love is at hand to console her. The rest of the film revolves around their ongoing love affair, punctuated by brief episodes of fierce emotional extremes that herald the loss of one more of their five precious senses.
The critical flaw with the film is that it boldly immerses itself in a total lack of sense, both literal and figurative. In between the couple's meandering walks along the river bank and impromptu love-making, the central premise of the film is utterly misplaced amid sudden cuts to real-life conflict footage - which feel somewhat amoral - and moments of ambiguous nudity. McGregor gives all the indications of a high-calibre Hollywood lead going through the motions to exercise his art house/indie proclivities, while Green's turn as Susan the scientist is gauche and, at times, inexplicable.
Previous works in a similar vein, such as Alfonso Cuarón's seminal Children Of Men (2006), acknowledge the potential science-fiction themes while retaining the character-driven focus of humanity's struggle against the threat of extinction. Perfect Sense, in contrast, falls down principally due to miscasting but also because the film, rather aptly, just doesn't make sense.
Reviewed on: 02 Apr 2012
Share this with others on...