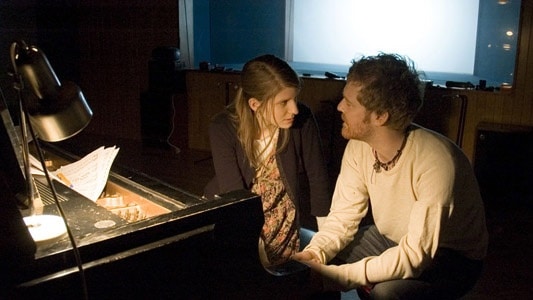 If Busby Berkeley's extravaganzas and Baz Luhrmann's Moulin Rouge lie at one end of the musical spectrum, John Carney's affecting film lies completely at the other. Just file it under: The Musical. Unplugged.
Singer/songwriter Glen Hansard – best known to UK audiences for being the lead vocalist with Irish rockers The Frames (John Carney was also the band's bassist at one point) – plays a Guy with no name. He's a busker on the streets of Dublin when he isn't helping his widowed dad fix vacuum cleaners in the family repair shop, dreaming of the day he'll make it big in the music business. In the tradition of all good stories our Guy meets a Girl – a Czech immigrant, played with a fragile sincerity by songwriter Markéta Irglová.

What ensues is a touching but thoroughly offbeat romance, interlaced with songs – written by Hansard and Irglová – which are so subtly woven into Carney's overall storyline that you can't see the join. The Girl and Guy discover a shared love of music and strike up a pact to cut a record, while unrequited love waits in the wings.
By steering away from the usual romantic cliches in favour of more ambiguous waters – the Girl has a bloke of her own, back in Prague, and a little girl to boot, while the Guy is wistfully dreaming of the lass he left in London – Carney keeps things earthy. Yet, despite being rooted in a reality in which bills have to be paid and work done before play, he still manages to construct a delicate fairytale laced with ifs and maybes.
The music, too, is a real bonus, with songs including If You Want Me and Falling Slowly sure to make the soundtrack a must for many. Carney uses his camera cleverly, to encourage us to listen to the lyrics of the songs rather than trying to create a glossy pop video, which makes the characters' sung interludes all the more credible.
The film won the Audience Award at Sundance back in January and its sweet and simple charms are certain to win it plenty more fans when it screens at the Edinburgh Festival and opens nationally later in the year.
Reviewed on: 13 Jul 2007
Share this with others on...