Eye For Film >> Movies >> Off The Rails (2016) Film Review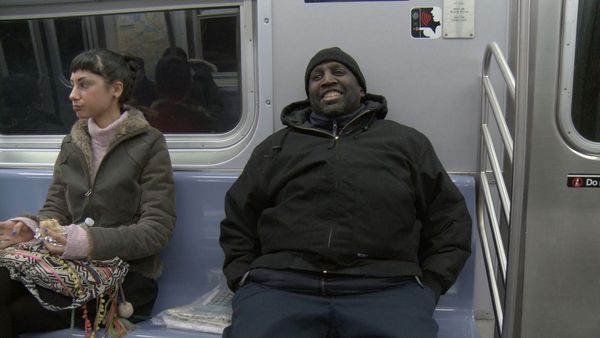 When you were a child, what did you want to be when you grew up? Back in the Seventies, one of the most popular answers was "an engine driver." Being a bus driver was also much esteemed; kids would battle to get the front seat up top so they could pretend to be the driver. According to his mother, New Yorker Darius McCollum loved all forms of transport and just couldn't get enough of them. He remembers singing "The wheels on the bus go round and round." For Darius, that passion never faded. He spent his teenage years hanging out with subway system staff, and as he got older, he started climbing into the driver's seat himself - all without any formal training. Now he's facing a possible 15 years.
What does the system do with a man like Darius? Nobody seems to know. His passion is so great that he simply cannot kick the habit - or so his 32 separate convictions would suggest. Even though the frequently used term joyride seems unfair - Darius is a very careful driver and never deviates from the proper routes or misses a stop - it's understandable that there are worries about public safety. Is Darius simply failing to accept adult responsibility, is he revelling in the newspaper features that lead strangers to greet him as 'the train guy', or is his behaviour essentially a product of the fact he's an Aspie? It has been suggested that he plead insanity instead of risking prison, but the risks involved in that could be even greater.
Life has had its share of challenges for Darius. His mother recalls him being violently assaulted as a child. He says that he has difficulty making friends, but he has an easy charm that makes him very likeable. Maybe it's more that he has difficulty keeping them. His obsession makes him endlessly unreliable; like any addict, he can only be trusted so far. The thought that because of this he must spend his days locked up with murderers and violent gang members, caught up in riots and even attacked in his sleep is quite appalling. New York is infamous for its failures in the field of mental health; it's notable that Darius has had very little therapeutic support and has been expected to cope on his own, on the streets, time and again.
When Darius tells us about his great love, it's magical - like hearing Roald Dahl's Charlie talk about the Chocolate Factory. Where many a trainspotter can baffle and bore, he brings the subject to life. It's just people that are difficult to understand, he says, and after watching this, you may feel the same way. Adam Irving's film combines childlike joy and the thrill of adventure with the realities of the adult world at its most bleak. In doing so, it goes beyond its fascinating subject to ask all of us what value we put on our passions and if we might not reasonably expect the world to bend a little, just sometimes, to make room for those unreasonable things that keep it interesting.
Reviewed on: 05 Oct 2016
Share this with others on...