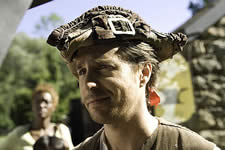 Sam Rockwell stars in opener Choke
This independent festival is "dedicated to fostering and promoting independent film in the UK and around the world". More than simply a festival, Raindance also runs training courses for up and coming film-makers and also hosts the British Independent Film Awards.
Now in its 16th year, the festival will open with Sam Rockwell starrer Choke and run from October 1 to 12. New to the festival this year is an Audience Award, to be voted for by the audience and the rather cumbersomely named Dailymotion Short Circuit Award which aims to "search for budding new talent".
Got a feature or short film screening at Raindance 2008 and want us to review it? If you have a screener, please feel free to send it to us.
View Films by Strand:
View previous years coverage of the Raindance Film Festival festival:
Raindance Latest Reviews
Raindance Film Festival Features
Raindance Film Festival News