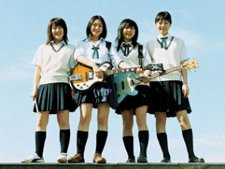 Linda Linda Linda
The festival runs from February 4 to 14 at ICA cinema in London, before going on tour. It will be visiting Queen's Film Theatre, Belfast (Feb 21 to 24), Filmhouse, Edinburgh (March 4 to 10), Broadway, Nottingham (March 11 to 16), Arnolfini, Bristol (March 18 to 20), Showroom Workstation, Sheffield (March 22 to 28).
View previous years coverage of the Japan Foundation Touring Festival festival:
Japan Film Festival Latest Reviews
Japan Foundation Touring Festival Features
Big in Japan
To celebrate the Back To The Future touring festival, we examine the fall and rise of Japanese film.