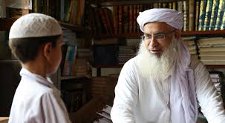 Opening film Among The Believers
This international film festival notches up its 20th year in 2016. It brings together documentary and fiction films with the intention of galvanising those who watch them to join those taking action against injustices many face every day.
This year's London arm of the festival ran from March 9 to 18 at the Barbican, British Museum, Curzon Soho, Picturehouse Central and Ritzy Picturehouse. To celebrate this 20th anniversary edition the festival included four additional Special Programmes combining visual media with in-depth discussions about filmmaking and human rights between Human Rights Watch experts and independent human rights advocates including Charif Kiwan, spokesman for a Syrian film collective, the filmmakers Kim Longinotto, and James Brabazon, and photographers Giles Duley and Zalmaï.
The festival opened with a UK premiere benefit gala showing of Among The Believers.
View previous years coverage of the Human Rights Watch Film Festival festival:
Human Rights Latest Reviews
Human Rights Watch Film Festival Features
Human Rights Watch Film Festival News