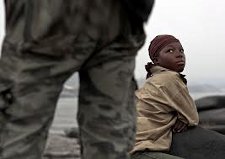 Oscar-nominated film War Witch will be among those screening
This international film festival aims to showcase the stories of activists and survivors from across the globe.
Currently in its 17th year, it brings together documentary and fiction films with the intention of galvanising those who watch them to join those taking action against injustices many face every day.
This year's London arm of the festival runs from March 13 to 22 at cinemas including the Curzon Soho, Curzon Mayfair, ICA and Ritzy Brixton. It will open with Kim Longinotto's Salma and feature the Oscar-nominated films War Witch and The Gatekeepers.
The New York edition of the festival will run from June 13 to 23.
View Films by Strand:
View previous years coverage of the Human Rights Watch Film Festival festival:
Human Rights Latest Reviews
Human Rights Watch Film Festival Features