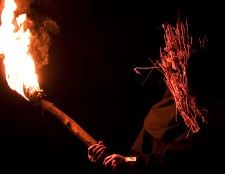 The creepy and perplexing Kill List
Collaborating with his wife Amy Jump, Ben Wheatley is an award-winning director of internet virals, commercials and television comedies (Modern Toss, Ideal, Wrong Door), who has recently turned his talents to feature films. His arresting ultra-low-budget debut Down Terrace revitalised the crime genre by throwing in some kitchen sink dramedy and his second feature Kill List is a confounding blend of domestic dysfunction, paranoid conspiracy, trauma and madness.
The story of a scarred, ex-soldier turned contract killer, Jay (Neil Maskell), who is pressured by his partner, Gal (Michael Smiley), into taking a new assignment with disturbing consequences is simultaneously funny, creepy and perplexing. It is also one of the most unmissably eccentric British horror films to have been made since Robin Hardy's The Wicker Man – whose influence it references in the most unexpected and ambiguous of ways. Here EyeForFilm works through its own kill list of questions with the engaging Mr Wheatley...
Do you regard your features as a natural extension of your other work (with which they certainly share a lot of cast members), or is it a completely different beast?
Well, the film work is longer. I've brought across elements of the viral work and the online work into the cinema stuff, specifically the effects shots or things that are shot in one long take looking at violent stuff, which is definitely something I've learnt from doing online virals. I've made a lot of shorts over the years which have used improvisation and non-actors, and I really like that way of working, but I've never been able to do that on television – there's no space for it there.
If you're looking at the TV work, it seems much more controlled, and then it goes more freeform and handheld in the cinema work, but it's something that I've been doing for a long time.
With Down Terrace, and now with Kill List, you have established yourself as a master of bringing banal domestic realism into unexpected collision with other, typically violent genres. What draws you to these incongruities?
I like things to be as real emotionally as possible, and I have a kind of pathological hatred of exposition, but at the same time I really love genre. So those are the films I really wanted to see - genre films that felt emotionally real. It was not out of any sort of postmodern scheme, it was something that just came naturally.
As we approached things like crime in Down Terrace or horror in Kill List, it was about being real emotionally and buying the performances, rather than lots of explanation of who's who and what's what, which seems to clog up a lot of genre cinema.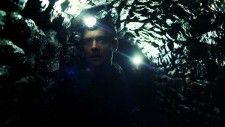 Jay (Neil Maskell) and Gal (Michael Smiley)
Although Kill List has an improvised feel, and its closing credits ascribe 'additional dialogue' to several members of the cast, it becomes clear, at least in retrospect, that several of even its most throwaway-seeming lines are crucial to the interpretation of the overall plot. How did you approach finding a balance between the calculated and the impromptu?
It's improvisation with a small 'i' - it's more like paraphrasing. So you do a version on the script, and then a version off the script and then a version on the script, and it's more to do with getting the actors to say it in their own words, so that it rubs off the edges of, say, slightly eggy writing - or sometimes it's just simply not written enough in the metre of the way that the actors speak normally, so it doesn't sound normal when they say it, but once they've added the 'ums' and 'ahs' and thought about it a bit in their heads, it becomes something that sounds real.
Then we do takes where the scenes would run on, but we'd let them continue improvising more wildly, but we found that generally a lot of those scenes, even though they were really good, never made it into the film, because they lack a thematic focus – they feel right as characterisation stuff but they don't add anything to the movie. So I'm really loose on set, but when it comes to the edit, we're really ruthless, so we pull out anything that is not serving the plot.
It's the little lines here and there which are the things that really spice it all up, that are said in the moment and that don't come from me. It feels very improvised, but I'd say it's about 80 per cent on the page, but just slightly tweaked.
Kill List is – and I mean this as a compliment – one of the most disorienting cinematic experiences that I have had in years. How, and why, did you set about creating such dizzying misdirection?
You want to keep the audience guessing, because as soon as you get ahead of the story you find it kind of boring. It might feel cosy, and you kind of go, if you're a big genre buff, "Ooh, I love this, because it's like this and this, and I know how it's going to end", but that's not the kind of cinema I like. When I'm watching something I want my brain to be slightly fizzing, going, "I don't understand, I'm trying to put it together in my head". That was the thinking behind it.
It was looking at American TV as well, and what I like about that. When they're asking questions, it's fascinating, but when they're telling you the answers, it becomes boring. I wanted there to be questions, but the main thing – it's a thing I have an issue with sightly in [television's] Lost – is that if you're asking the audience a load of questions, you've got to know what the answers are, even if you don't show them.
Within the scheme of Kill List, I know what's going on, but I won't necessarily tell you. Suggesting what the darkest thing is is much scarier than literally showing it. Those questions are the things that make you afraid. You've been thrown a load of images and clues, but putting those together is the thing that unnerves you.
Though there is, I think, a solution to your film's enigmas, it does not come neatly spoon-fed at the end. Are you confident that viewers will comprehend the film's masked meaning? Do you mind if your film is misunderstood?
I don't care. You can come at it at different levels. You can come at the level that it's just terrifying, and that is a good enough experience from that film. It is an experience that you've had that you wouldn't necessarily get anywhere else. The actual crossword unlocking of the puzzle is something else. I've heard all sorts of different theories on what it means, and I'm happy with all of them in a way.
I'd be hard-pressed to pin Kill List down to a single genre, but it is certainly informed at least in part by horror, which is no doubt why it is having its UK premiere at this year's FrightFest. Your horror involves not just such genre staples as torture, murder and diabolism, but also the growing realisation of what is really going on beneath the genre surface. What influenced your particular take on horror?
I did a Top Ten for Film4 the other day on horror. I've got Ladybird Ladybird there, which terrified the shit out of me, but that's emotional violence, there's no supernatural people with twinkly teeth trying to drink your blood in that. In that, there are scenes that scare me, and also scare me as a parent, that I just don't get from general horror cinema.
I was on a panel the other day at SXSW, with someone going, "What do you think are the trends for future horror? What's been going on in the last ten years?" For me, there's been a rehabilitation of all these monsters, now they're sort of our friends. It's really strange, the vampires and zombies all seem to be being portrayed as kinda all right, they're outsiders rather than monsters. I wanted to make something to scare the shit out of you rather than for you to cosy up against.
What's next for Mr and Mrs Wheatley?
We're working on a couple of comedies at the moment, just because it was a bit gruelling doing Kill List – so we're looking at that, but they've all turned out quite dark (laughs). And then we've got a big sci-fi thing that we're doing, which is a bit more at the action end of the street, but still all these movies are going to be informed by trying to get that emotional side of it right: engaging, intelligent characters rather than just cyphers. I think that's hopefully the thing that will connect all the films together as time goes on.
Kill List is on general theatrical release today from Studiocanal. You can check out Ben Wheatley's online work at the website Mr and Mrs Wheatley. And the Facebook App is available here.
Share this with others on...